Evelina, Or, the History of a Young Lady's Entrance into the World by Fanny Burney
Author:Fanny Burney [Burney, Fanny] , Date: March 26, 2014 ,Views: 25561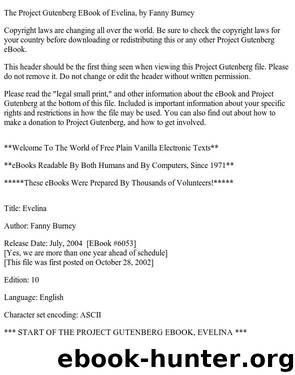 Author:Fanny Burney [Burney, Fanny]
Language: eng
Format: epub, mobi
Tags: Unread
Publisher: Project Gutenberg
Published: 2004-06-30T16:00:00+00:00



LETTER XLVII.
EVELINA TO THE REV. MR. VILLARS. Holborn, June 18th.
MADAME DUVAL rose very late this morning, and, at one o'clock, we had but just breakfasted, when Miss Branghton, her brother, Mr. Smith, and Monsieur Du Bois, called to enquire after our healths.
The civility in young Branghton, I much suspect, was merely the result of his father's commands; but his sister and Mr. Smith, I soon found, had motives of their own. Scarce had they spoken to Madame Duval, when, advancing eagerly to me, "Pray, Ma'am," said Mr. Smith, "who was that gentleman?"
"Pray, cousin," cried Miss Branghton, "was not he the same gentleman you ran away with that night at the opera?"
"Goodness! that he was," said young Branghton, "and, I declare, as soon as ever I saw him, I thought I knew his face."
"I'm sure, I'll defy you to forget him," answered his sister, "if once you had seen him: he is the finest gentleman I ever saw in my life, don't you think so, Mr. Smith?"
"Why, you won't give the lady time to speak," said Mr. Smith.-"Pray, Ma'am, what is the gentleman's name?"
"Willoughby, Sir."
"Willoughby! I think I have heard the name. Pray, Ma'am, is he married?"
"Lord, no, that he is not," cried Miss Branghton; "he looks too smart by a great deal for a married man. Pray, cousin, how did you get acquainted with him?"
"Pray, Miss," said young Branghton, in the same breath, "what's his business?"
"Indeed I don't know," answered I.
"Something very genteel, I dare say," added Miss Branghton, "because he dresses so fine."
"It ought to be something that brings in a good income" said Mr. Smith; "for I'm sure that he did not get that suit of clothes he had on under thirty or forty pounds; for I know the price of clothes pretty well.-Pray, Ma'am, can you tell me what he has a-year?"
"Don't talk no more about him," cried Madame Duval, "for I don't like to hear his name: I believe he's one of the worst persons in the world; for though I never did him no manner of harm, nor so much as hurt a hair of his head, I know he was an accomplice with the fellow, Captain Mirvan, to take away my life."
Everybody, but myself, now crowding around her for an explanation, a violent rapping at the street-door was unheard; and, without any previous notice, in the midst of her narration, Sir Clement Willoughby entered the room. They all started; and, with looks of guilty confusion, as if they feared his resentment for having listened to Madame Duval, they scrambled for chairs, and in a moment were all formally seated.
Sir Clement, after a general bow, singling out Madame Duval, said with his usual easiness, "I have done myself the honour of waiting on you, Madame, to enquire if you have any commands to Howard Grove, whither I am going to-morrow morning."
Then, seeing the storm that gathered in her eyes, before he allowed her time to answer, he addressed himself to me;-"And if you, Madam, have any with which you will honour me, I shall be happy to execute them.
Download


Copyright Disclaimer:
This site does not store any files on its server. We only index and link to content provided by other sites. Please contact the content providers to delete copyright contents if any and email us, we'll remove relevant links or contents immediately.