Truly Madly Famously by Rebecca Serle
Author:Rebecca Serle [Serle, Rebecca] , Date: November 2, 2015 ,Views: 1055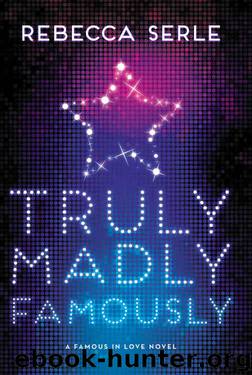 Author:Rebecca Serle [Serle, Rebecca]
Language: eng
Format: epub
ISBN: 9780316366373
Publisher: Little, Brown Books for Young Readers
Published: 0101-01-01T00:00:00+00:00



CHAPTER 11
We've been on planes before, the three of us. On our first promotional tour of Locked, when I was with Rainer. Even though it's only been a month, everything is different. Rainer and I aren't together, and Jordan and I aren't, either, and no one is friends, or even pretending to be. No one is speaking.
I sit alone. Jessica takes out a game of Scattergories, and she and Rainer play. Jordan sits somewhere near the back. I see him only briefly when we board, and then he disappears out of sight. I know I can't follow him, so I settle somewhere in the middle, by the window, away from them both.
The tension on the plane is tight, palpable. I close my eyes to see if it's safer there. I'm surprised at how quickly I fall asleep.
I wake up intermittently, and when I do, everyone else is asleep. Jessica and Rainer are curled up together. I think they fell asleep playing Connect Four. I find some water and down it. I read for a little while, but I'm distracted, anxious, and still groggy. After a few hours I give up and pass back out. When I wake up this time, it's to a rocky landing. Security is at the gate for us. Five guys in all black lead us to a waiting town car. But word must have gotten out that we're here, because even at the private airport, people are waiting.
I've heard the fandom in Asia in intense, but nothing prepares me for the hysteria we're met with as we make our way to the cars. People claw and cry. They yell and scream and snap photos. It's crazy, insane. Instinctively I look for Rainer, but he's already moving ahead of me, lost in between two bodyguards. I have to brave this one on my own.
The three of us pose for pictures outside and sign autographs. Rainer doesn't hold tightly to my hand. He doesn't whisper in my ear that it's only going to be three minutes. He doesn't even look at me.
Download


Copyright Disclaimer:
This site does not store any files on its server. We only index and link to content provided by other sites. Please contact the content providers to delete copyright contents if any and email us, we'll remove relevant links or contents immediately.