Times Like These (Detective Inspector Marco Book 4) by stephen Puleston
Author:stephen Puleston [Puleston, Stephen] , Date: June 11, 2021 ,Views: 55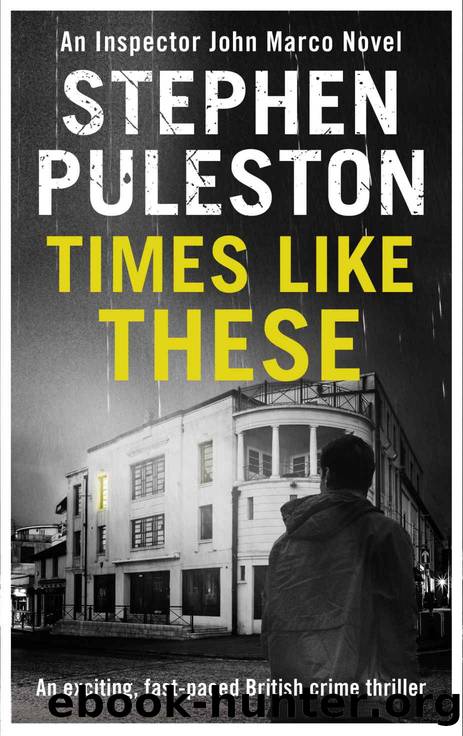 Author:stephen Puleston [Puleston, Stephen]
Language: eng
Format: epub
Published: 2020-10-19T22:00:00+00:00



Chapter 23
Sunday mornings were quiet around the blocks of flats in the Bay. Most people would be sleeping in or watching television or frying bacon for breakfast. I pointed the remote at my Mondeo and its locks bleeped open. A couple of youngsters cycled past, all kitted up like participants in the Tour de France.
I collected Lydia from outside Queen Street, and she gave me directions for Northam's offices.
'I've been thinking, boss,' Lydia said. 'If Armsby and Northam both faced criminal charges for rape then both inquiries have a common link.'
'Let's wait until we're further ahead before we make any decisions.'
Lydia continued, thinking out loud, 'But where does that take us with Carey? Maybe there are two killers at work.'
I pulled into the car park at the offices of Banjax TV. It should have been deserted but it was occupied by half a dozen vehicles, all expensive looking saloons, Mercedes and BMWs, some less than two years old, one with a personalised number plate.
Soap operas weren't really my thing but Doctor Who and Holby City were produced in studios in Cardiff. The pandemic must have had an impact – after all, it would be difficult to film a scene where the actors would have to socially distance. There had been lots of repeats during the months of the lockdown so companies like Banjax TV were playing catch-up with the backlog of production and recordings.
A tall, thin woman prowled around reception chewing a nail. From her gaunt appearance I guessed it had been her only square meal for the past few days.
'Inspector Marco?' she said, peering at me intently. Her eyes were set a little too far back, giving her a ghostly appearance. She glared at Lydia.
'This is Detective Sergeant Lydia Flint.'
'Thank Christ, you've arrived.' The accent was a younger version of Angela Northam. Cultured and urbane, just as you'd expect from an employee of a television production company. I imagined her floating around a reception with A-list celebrities, casually sipping on a glass of champagne, exchanging small talk and laughing politely. 'This is shocking, shocking, come with me.'
She led us through into the bowels of the building. At the far end was a conference room and through the glass panel of the door a dozen or more people milled around inside.
Intense stares connected with Lydia and me as we followed the thin, nameless woman. She announced. 'This is Detective Inspector Marco and…' Lydia helped out. 'Detective Sergeant Lydia Flint.'
'Of course, of course.' the woman said beating herself up verbally for the inadequacies of her memory.
'We're all desperately sad.' The booming voice came from a man in his sixties who sounded as though he was auditioning for a part in King Lear. 'If there's anything at all that we can do to help.'
Talking to each of the assembled audience in turn would take me hours. I glanced at Lydia who gave the briefest twitch of her lips that suggested she felt the same frustration that somehow, we were here to be part of their collective grief.
Download


Copyright Disclaimer:
This site does not store any files on its server. We only index and link to content provided by other sites. Please contact the content providers to delete copyright contents if any and email us, we'll remove relevant links or contents immediately.