The Rottweiler by Ruth Rendell
Author:Ruth Rendell [Rendell, Ruth] , Date: August 2, 2020 ,Views: 40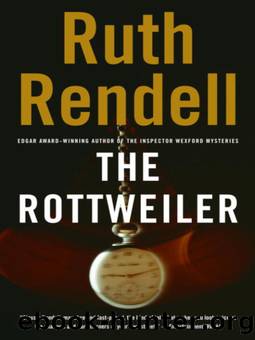 Author:Ruth Rendell [Rendell, Ruth]
Language: eng
Format: epub
Tags: Mystery, Thriller
ISBN: 9780099460244
Publisher: Arrow



It was just after six when Crippen appeared and said to Becky in a surly tone, 'We're letting Cobbett go home.'
She jumped up. 'Where is he?'
'He's coming. I've had a doctor see him.' Crippen spoke in the manner of a responsible person piously proud of doing his duty. 'The doctor can't account for his refusal to talk.'
Becky turned away. How different would Forsyth's conduct have been, thought Inez, in similar circumstances. For an instant, vividly, she saw Martin's face as he showed that tender empathy with the aunt of the poor boy his men had wrongfully arrested. Tonight, when at last she got home, she would put all this behind her and watch Forsyth and the Forlorn Hope, she'd forget Will and Becky and Freddy and Zeinab, and indulge in her therapy …
They brought Will in. Like a zombie, he walked mechanically, his legs stiff, his head hanging. Becky ran to him and threw her arms round him. He let himself be hugged, staring blankly over her head at the window and the long slanting sunbeams of late afternoon. Then, with a wondering slowness, as if learning the move for the first time, he brought up his hands and laid them against her back.
Not a word did he utter even when they were in the car, Inez in the back, he in the passenger seat next to Becky. One good thing, thought Inez, Becky's body must have processed the alcohol in her blood by now. The police had seemed unaware of it. The traffic was heavy, nose-to-tail queues from Maida Vale down to Marble Arch and not much better going up. 'Thursday evening,' said Inez. 'Late shopping in Oxford Street.'
'Of course I shall take Will home with me,' said Becky. 'He can't be alone.'
To her shame, Inez was enormously relieved. Instead of luxuriating in Martin's company for a couple of hours, she had imagined herself up and down the stairs, checking on Will, feeding Will, continually obliged to phone Becky.
'I suppose he'll have to take time off work?'
'He will? I should think that's the least of our worries. What about me?'
'Becky, I'm so sorry. Did you find out anything about what they suspected him of doing? Why he'd been in—wherever it was—Queens Park?'
'They said they'd want to see him again, but I expect they always say that. They found him digging in a garden and when they asked him he wouldn't answer. Of, course the truth is he couldn't answer. He can't speak. Very obviously, I'd say, he's lost the power of speech. They've had masses of them digging up all the gardens round there and searching through sheds and garages. They told me that but they wouldn't say why. Looking for Jacky Miller's body, I suppose.'
Will remained silent, his face not so much inscrutable as empty. The last Inez saw of them as Becky drove off along Star Street was his head and shoulders in profile, expressionless, rigid and inanimate as the marble bust Freddy had tried to sell to Anwar Ghosh.
Download


Copyright Disclaimer:
This site does not store any files on its server. We only index and link to content provided by other sites. Please contact the content providers to delete copyright contents if any and email us, we'll remove relevant links or contents immediately.