The Perfect House by R.P. Bolton
Author:R.P. Bolton [Bolton, R.P.] , Date: October 14, 2021 ,Views: 71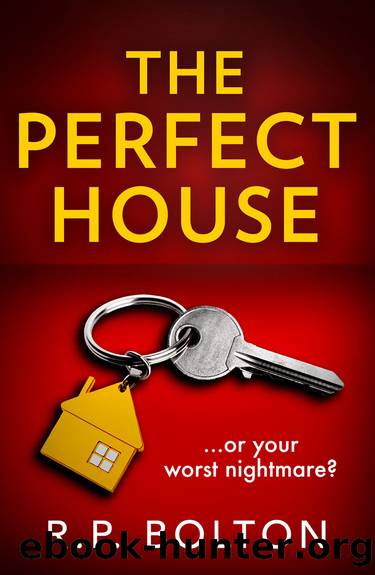 Author:R.P. Bolton [Bolton, R.P.]
Language: eng
Format: epub
Publisher: HarperCollins Publishers
Published: 2021-08-23T17:00:00+00:00



32. Now
Darkness. Absolute darkness. And a smell, like fireworks or just-pulled Christmas crackers.
Gunshots? No, of course not.
Light switch. Flick. Flick. Nothing. The red standby light plinked off on the TV. Ellie scrabbled for her phone and found the torch icon. Fragments of glass sparkled on the coffee table. She tipped her head back: the candelabra held six brass bulb holders. Each one no longer containing a bulb.
'Shit!'
Using her fingertips, she delicately examined the exposed areas of Trinity – scalp, face, hands – and blew gently across her face, trying to dislodge any dust. No sign of glass, thank God, but she needed to get her in the bath to be sure.
It was even darker in the hall. No reassuring lights winked from the boiler or the appliances in the kitchen and Tom's phone rang out until his voicemail kicked in.
This is Tom Hartley. Please leave a message.
'Are you nearly home? The bulbs exploded in the lounge and I don't know where the fuse box is.'
Her own phone beeped – only one per cent battery remaining. She hung up, switched the torch off.
No power, no heating. No phone. A shudder engulfed her.
The only light was a beacon glow from Diane's conservatory. She whispered, teeth chattering against Trinity. 'Come on, baby girl. We're going next door.'
She trailed her fingers along the hallway's cold wall. And stopped. Tom had stripped the embossed wallpaper and repainted. So why did her imagination feel ridges and swirls?
The darkness eddied around her. A cold panic trickled down her spine and she groped frantically at the front door handle.
Where were the keys?
Her blind fingertips probed the wicker basket, assessing and discarding objects.
No keys.
Even the faint glimmer of streetlamps had been snuffed out and darkness wrapped around her so tightly she couldn't tell if her eyes were open or shut. Silence swelled and her mind convulsed with the terror that someone – or something – was about to materialise.
Like the air above a candle, the darkness shimmered. She slid to the floor and drew her knees up as close as the baby's body would allow and, like a child herself now, she huddled small and motionless, knowing if her foot sneaked out of the blanket, a monster would grab it.
Blood pulsed in her ears and she knew she wasn't alone.
She held her breath. The house held its breath.
Upstairs a voice began to sing very quietly.
'Mary, Mary, quite contrary,
How does your garden grow?
With silver bells and cockle shells …'
Ellie moaned, pressing her hand over her eyes until colours exploded against the lids.
'And pretty maids all in a row.'
Download


Copyright Disclaimer:
This site does not store any files on its server. We only index and link to content provided by other sites. Please contact the content providers to delete copyright contents if any and email us, we'll remove relevant links or contents immediately.