The Nabatean Secret by J C Ryan
Author:J C Ryan , Date: August 6, 2020 ,Views: 181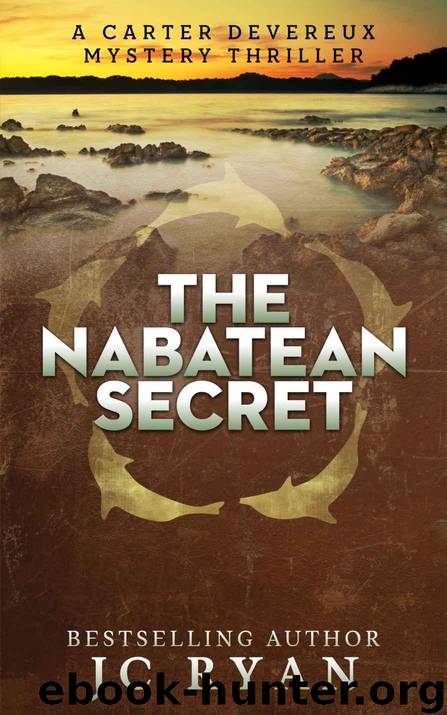 Author:J C Ryan
Language: eng
Format: mobi
Published: 2017-05-10T23:00:00+00:00



Chapter 52 - His hourglass was running out quickly
Mathieu Nabati was sleeping soundly when his secure phone rang. He glanced at his bedside clock as he reached for it. Three a.m. It had to be his mother. Lately, she'd been growing anxious that the Devereuxs had yet to be arrested. He knew what was coming, despite his warnings.
"Yes, Maman, what is it?" he said in greeting.
"You know very well what it is," she snapped. "Why haven't the Devereuxs been arrested yet?"
Could this not have waited until morning? The ten-hour time difference between his hideaway in the Urals and his mother's in the Andes could easily have accommodated calls at a reasonable hour for them both, but his mother paid no attention. However, he didn't dare complain.
"Maman, we've discussed this. Someone is hiding them."
"It's time to call McCormick to account for his failure," she insisted.
"Agreed, he needs to be accountable. But it will mean exposing an operative to a face-to-face meeting for the first time in twenty-five years. Is this wise?"
"We have to do something. The data we're downloading from the Freydís translations has become useless. There's no more technical data, only history. I find it suspect that there's nothing but E-Codex material, and none from the A-Codex. One would think they'd be frantically working to determine the cause of the Patch Barracks bomb.
"Furthermore, the information from the National Security Council has also dried up. With the press and Congress calling for answers, surely something of top-secret importance is being discussed in the NSC meetings."
"You mentioned that Jason Sullivan has apparently had cold feet lately," Mathieu observed. "Perhaps he simply isn't passing it on."
"I made it clear what the consequences would be if he attempted to resign, either from the Council or from his Cabinet post. I don't think he's playing games with us. More likely, someone on the NSC suspects a leak, and now they are careful about what they discuss."
"Maman, that's ridiculous. They only exist to discuss secrets."
"Then you take my point. Have Sullivan and McCormick now come to the end of their usefulness?"
"Perhaps so."
***
Over a solitary lunch taken in his office, Jason Sullivan was considering the same question. As a non-statutory member of the NSC, he wasn't required to attend all meetings. Nevertheless, he'd been invited to all, or so he'd thought. Lately, he'd had hints that meetings had been called to which he wasn't invited. There was no easy way to verify his hunch, though. Not without exciting suspicion.
By the same token, he felt as if a target were on his back any time he attended the virtual meetings of the Council of the Covenant of Nabatea. As if he'd been the subject of discussion among the members, though no one pointed a finger.
Admittedly, it had been some weeks, since about mid-March, since anything of value to the Nabateans had come out of the NSC. There was nothing he could do about that, but the hints dropped in the Nabatean meetings weren't so subtle.
Nothing exciting for us today, Jason? We just need another good bomb out of the NSC now to tip the whole thing over.
Download


Copyright Disclaimer:
This site does not store any files on its server. We only index and link to content provided by other sites. Please contact the content providers to delete copyright contents if any and email us, we'll remove relevant links or contents immediately.