The Love Notes by Jennifer Griffith
Author:Jennifer Griffith [Griffith, Jennifer] , Date: August 7, 2020 ,Views: 220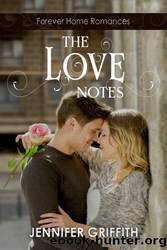 Author:Jennifer Griffith [Griffith, Jennifer]
Language: eng
Format: epub
Published: 2020-07-13T22:00:00+00:00



Chapter 8
On That Note
Friday 1/23
Bridger—
Fine. I'll tell you who I am, since your scrawl insisted in all caps.
Well, not my identity, but something about me.
I lived in a brick house when I was a little kid. A family of wasps decided a little hole in the mortar of the bricks would be the perfect place to build their house. This worked out so well that they invited friends, and more friends, and pretty soon, they had a whole megalopolis of wasps living there. It got so bad that an exterminator had to come and put a tent over our house to get rid of them all. When I got stung fifty times, my mom insisted we move.
That's why I don't live in a brick house anymore. That's also why I go to school with you here at Mendon High School and pass you in the halls.
Yes, you've seen me, to answer your second ALL CAPS question.
No, I'm not going to tell you who I am. No, you shouldn't stalk the hallway watching for when I slide these notes in your locker. You won't see me leave you a note, I guarantee it.
But, instead of all this vandalism, you could leave me a note somewhere (not my locker, though), since you say it's to ask me a question. If it's a personal question, like to find out who I am, don't expect a direct answer.
There's an empty bank of lockers in the science hall. The one on the end next to Mr. Magleby's room has a broken lock. I will check it on Monday. And hey, Bridger? You're strong. You're amazing.
Good luck in the ballgame tonight.
–Your friend
Monday 1/26
My Unknown Friend—
Finally! Hey, how are you doing? Are you in any of my classes? Because this semester the teachers are really thrashing us. I can hardly keep up. But I want to get a scholarship, so I'm busting my … Working hard. Sorry. I didn't mean to almost swear. You seem really nice. And not like the swearing type. Anyway, just wanted to wish you luck in school. And thanks for the letters. I liked the quote from Winston Churchill a lot. "Success is not final, failure is not fatal: it is the courage to continue that counts." Keep on keeping on, Friend.
–Bridger
PS I spent all weekend working on this note. Thanks for the good-luck wish on the game. It helped.
"What a joke!" Willow threw her head back and shriek-laughed even louder than RubyLou's DJ-ing volume. She waved the note in Tansy's face with a jeer. "As if he'd ever look at you! Then or now." The cackle could have broken glass, but the music turned up again, as if RubyLou knew the cue.
At least no one looked Tansy's way.
In the movie It's a Wonderful Life, the floor of the gymnasium split, opening up and revealing a big swimming pool that George Bailey fell into. Tansy could've used one of those right about then—for herself. She could've swum underwater and held her breath until everyone left, or until she drowned.
Download


Copyright Disclaimer:
This site does not store any files on its server. We only index and link to content provided by other sites. Please contact the content providers to delete copyright contents if any and email us, we'll remove relevant links or contents immediately.