The Longevity Diet by Valter Longo
Author:Valter Longo , Date: January 2, 2018 ,Views: 4151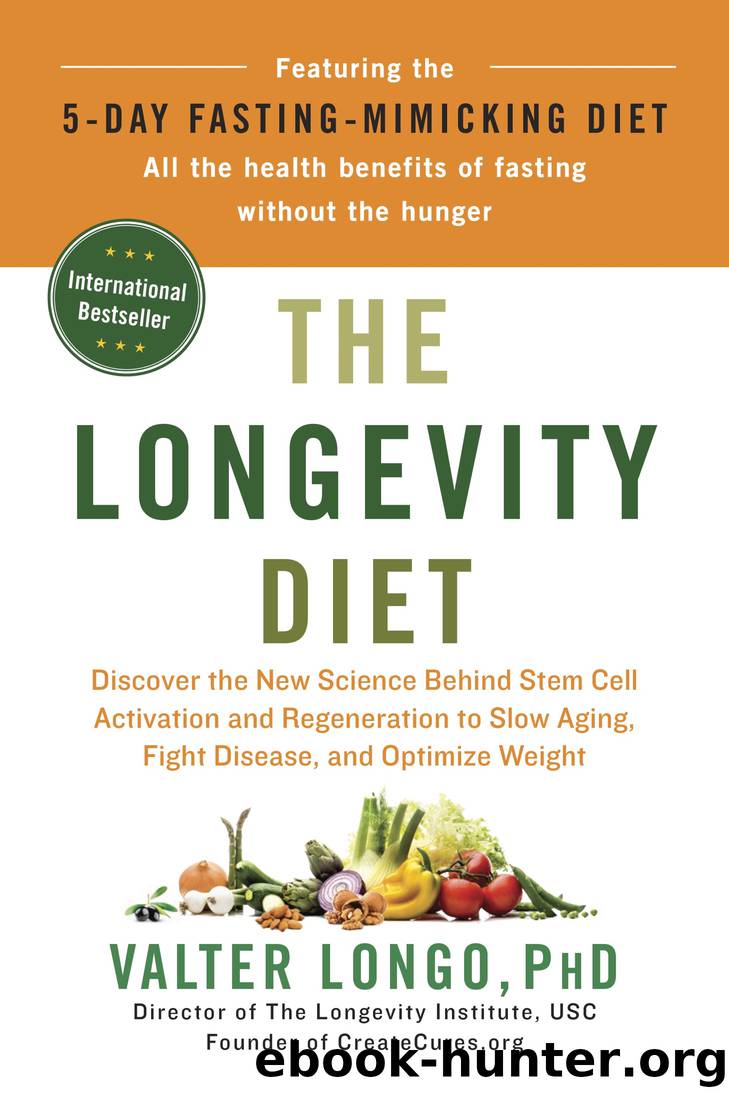 Author:Valter Longo
Language: eng
Format: epub, mobi, azw3
Publisher: Penguin Publishing Group
Published: 2018-01-02T05:00:00+00:00



A CAUTIONARY TALE (WITH A HAPPY ENDING)
I want to share an email I received from a stranger. It reinforces how powerful the periodic FMD and the daily Longevity Diet can be in preventing and treating disease, but it also demonstrates the dangers of self-treatment. This diabetic patient risked his life by combining insulin-like drugs with his own version of my Longevity Diet, and doing so without consulting his doctor.
Dear Dr. Longo,
You don't know it, but you saved my life. In December, I started my descent to hell with a paralysis of my left leg. By the night of Christmas I was in the hospital. A series of endless blood exams did not identify anything alarming but strong acid reflux, bad digestion, and continuous vomiting. The gastroscopy, allergy, and food-intolerance tests did not show anything. According to the doctors, I was fine. I had eliminated meat, milk, and lactose-containing food from my diet since March, and I obtained some results. But I could not walk for more than 500 feet without gasping. My weight increased to 270 pounds without overeating, accompanied by an obvious edema in the legs and throughout the body; the imaging tests revealed a severe hepatic steatosis, which was turning into hepatic cirrhosis. My liver occupied a lot of my abdominal cavity, resulting in pressure to my stomach, which may have caused the reflux and a pleuritis in the lower part of the lung and continuous coughing.
On June 5, everything changed. I picked up a magazine and on its cover is the article about you: "Healing by Eating Less." I read the article and I was shocked. Keep in mind that I'm a diabetic person (insulin, NovoRapid 18 units 3 times per day, 22 units of Lantus at night—metformin pills and blood pressure medications). I adopted the diet described by you at the end of June, and everything changed. The results: 230 pounds, I walk/run for 3 miles per day and I'm taking a diving class. I eliminated the night diabetes drugs (Lantus) because it caused severe hypoglycemia at night, and reduced NovoRapid to 6 units in the morning, 10 units at lunch, and 8 units at dinner. I no longer take metformin. I eliminated all types of meats, milk, and lactose-containing foods, butter, margarine, fried food, alcohol, sweets, and sugars, and usually my glucose level does not go above 145. My doctors did not believe how well I was doing and wanted a copy of the article.
Fortunately, the patient did not adopt the FMD, only the Longevity Diet. But that was enough to resensitize his cells to insulin and cause severe hypoglycemia at night. He risked his life by making such a drastic change without consulting a doctor experienced in diet and diabetes to advise him during the transition. Had he also adopted the FMD, the combination of that and his diabetes drugs could have killed him.
The results of my research may have proven beneficial for this patient, but if you are diabetic I strongly discourage his self-administered approach.
Download


Copyright Disclaimer:
This site does not store any files on its server. We only index and link to content provided by other sites. Please contact the content providers to delete copyright contents if any and email us, we'll remove relevant links or contents immediately.