The Four-Pack Revolution by Chael Sonnen & Ryan Parsons
Author:Chael Sonnen & Ryan Parsons , Date: December 25, 2017 ,Views: 3340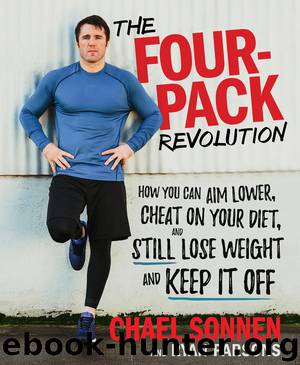 Author:Chael Sonnen & Ryan Parsons
Language: eng
Format: epub
Tags: Health & Fitness, Exercise, Diet & Nutrition, Diets, Weight Loss
Publisher: Rodale Books
Published: 2017-12-26T00:00:00+00:00



Have It Your Way
We have stressed throughout this book the importance of creating a plan that fits you. If you don't find food you enjoy eating and exercise that is fun to do, how can you possibly expect to sustain this behavior over the long haul? It may not be conscious, but your natural tendencies will eventually take over and you'll find a way to reject your new plan before too long. A version of this happens in mixed martial arts fights all the time. When fighters find themselves in trouble, they often revert back to their original style of martial arts. For example, a wrestler will keep trying to shoot takedowns even if they're not successful with the technique. Stress exposes our patterns and highlights our weaknesses. If a Big Mac represents comfort, chances are you will find yourself at the McDonald's drive-thru when you become stressed. It's possible to break these unhealthy habits, but it requires self-awareness and discipline.
John Parsons (Ryan's father) was a former All-American wrestler. At an age when most people retire, he exchanged the wrestling shoes of his youth for hiking boots and trekked the entire length of the 2,200-mile Appalachian Trail—twice. This historic hike begins at Springer Mountain in Georgia and traverses through 14 states before ending at the summit of Mount Katahdin in Maine. Since John works full-time, he broke the hike up into sections and completed them over several years. It wasn't uncommon for him to cover as many as 720 miles and lose 30 pounds during one of his 6-week hikes on the trail. Hiking upward of 20 miles a day from morning to night burns a lot of calories. Eating high-calorie foods such as peanut butter helped sustain him, but given the ground he was covering, it was inevitable that his body would turn to itself for much-needed calories. There's another lesson here: John did this in his late sixties and now, at 70, he's still at it. This goes to show that it's never too late. Your body will respond to exercise at any age.
Now, as impressive as this is, John experienced what many long-distance athletes do after returning home: He continued to eat like he was still hiking 12 hours a day. Those 30 pounds that melted away while walking through the woods came back with a vengeance. Following one of his lengthy hiking excursions, it was not uncommon for John to find himself at Starbucks getting his morning coffee—and ordering three muffins to go with it. It took conscious effort to remember that he didn't need 10,000 calories a day to survive. Remember, your body isn't aware of the bigger picture, so you need to be in charge, steering the ship.
There are many different ways to exercise. From a yoga class to hitting a heavy bag, a walk around the block to an intense CrossFit workout—there is no one-size-fits-all approach. So experiment and find activities that you enjoy. Better yet, find several options to keep things interesting and your body guessing.
Download


Copyright Disclaimer:
This site does not store any files on its server. We only index and link to content provided by other sites. Please contact the content providers to delete copyright contents if any and email us, we'll remove relevant links or contents immediately.