Bodyweight Strength Training by Jay Cardiello
Author:Jay Cardiello , Date: January 13, 2018 ,Views: 5671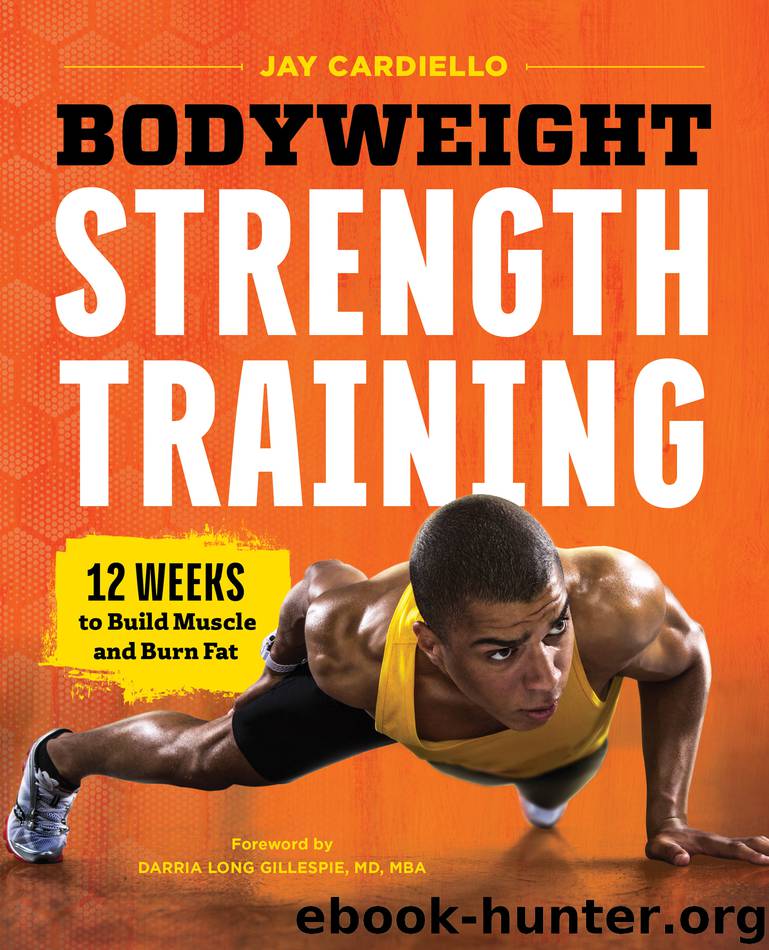 Author:Jay Cardiello
Language: eng
Format: epub, mobi
Publisher: Rockridge Press
Published: 2017-01-13T05:00:00+00:00



HOLLOW BODY HOLD AND ROLL
CORE | RECTUS ABDOMINIS
This exercise is an advanced variation of the Hollow Body Hold. It's imperative to become proficient with the Hollow Body Hold before you try this exercise. Throughout the program, you'll be able to select either exercise for your workouts.
1.Lie down on your back with your arms and legs extended straight out from your body. Bring your hands together so that your fingertips are touching.
2.Brace your core, contract your abs, and pull your belly button in toward the floor.
3.Slowly raise your shoulders and arms off the ground by curling your shoulders upward, and lift your legs off the ground. Keep your arms and legs off the floor. (A) Hold this position.
4.Slowly roll onto your right side without letting your arms or legs touch the ground. (B) Pause.
5.With your arms and legs still raised off the floor, continue to roll onto your stomach. Pause.
6.Roll back to reverse the motion and return to starting position. (A)
7.Repeat exercise sequence but roll to the other side. (C)
Download


Copyright Disclaimer:
This site does not store any files on its server. We only index and link to content provided by other sites. Please contact the content providers to delete copyright contents if any and email us, we'll remove relevant links or contents immediately.