The Good Daughter: A Novel by Karin Slaughter
Author:Karin Slaughter , Date: July 22, 2020 ,Views: 331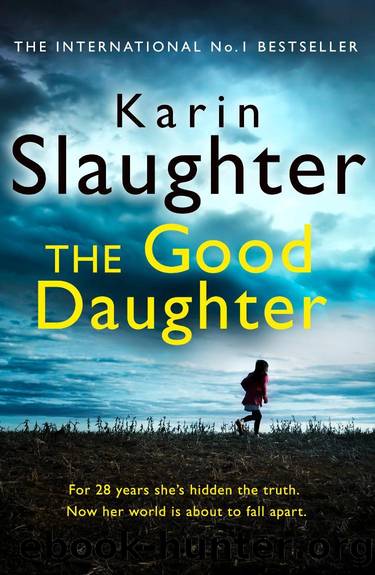 Author:Karin Slaughter
Language: eng
Format: mobi
Tags: Thriller
ISBN: 9780062430243
Published: 2017-08-07T23:00:00+00:00



10
Riding in the car with Charlie, Sam understood that she had never been a nervous passenger because she had never before been driven by her little sister. Charlie only gave a cursory glance in her mirrors before she changed lanes. She liberally used her horn. She talked to drivers under her breath, urging them to go faster, go slower, to move out of her way.
Sam sneezed violently. Her eyes were watering. Charlie's car, a sort of station wagon/SUV hybrid, smelled of damp hay and animals. "Do you have a dog?"
"He's on temporary loan to the Guggenheim."
Sam gripped the dashboard as Charlie swerved into another lane. "Shouldn't you leave your signal on for longer than that?"
"I think your verbal paraphasia is back," Charlie said. "You said 'shouldn't you,' when you meant, 'you should.'"
Sam laughed, which seemed inappropriate given their destination was the city jail.
Representing Kelly Wilson was secondary to finding out what was wrong with Charlie both physically because of the bruises and emotionally because of everything else, but Sam did not take lightly the job of representing the school shooter. For the first time in many years, she was nervous about talking to a client, and worse, walking into an unfamiliar courtroom.
She told Charlie, "My Portland cases were in family court. I've never sat across from an accused murderer before."
Charlie gave Sam a careful look, as if something might be wrong with her. "We both have, Sammy."
Sam waved off the concern. She was unwilling to explain how she had always put her life into categories. The Sam who had sat across from the Culpepper brothers at the kitchen table was not the same Sam who had practiced law in Portland.
She said, "It's been a long time since I've handled a criminal complaint."
"It's just an arraignment. It'll come back to you."
"I've never been on the other side."
"Well, the first thing you'll notice is the judge won't be kissing your ass."
"They didn't in Portland. Even the cops had 'fuck the man' bumper stickers."
Charlie shook her head. She had probably never been anywhere like it. "Usually, I have five minutes with my client before we're in court. There's not a lot to say. They generally did what they were charged with doing—buying drugs, selling drugs, using drugs, stealing shit or fencing shit so they can get more drugs. I look at their sheet and see if they qualify for rehab or some kind of diversion, and then I tell them what's going to happen next. That's what they usually want to know. Even if they've been in a courtroom a zillion times before, they want to know the sequence of events. What happens next? And then what happens? And then what? I tell them a hundred times, and each time they ask me again and again."
Sam thought that sounded a hell of a lot like Charlie's role during Sam's early recovery. "Isn't that tedious?"
"I always remind myself that they're freaked the hell out, and knowing what comes next gives them some sense of control.
Download


Copyright Disclaimer:
This site does not store any files on its server. We only index and link to content provided by other sites. Please contact the content providers to delete copyright contents if any and email us, we'll remove relevant links or contents immediately.