The Fate of Rome: Climate, Disease, and the End of an Empire (The Princeton History of the Ancient World) by Kyle Harper
Author:Kyle Harper [Harper, Kyle] , Date: November 21, 2017 ,Views: 2121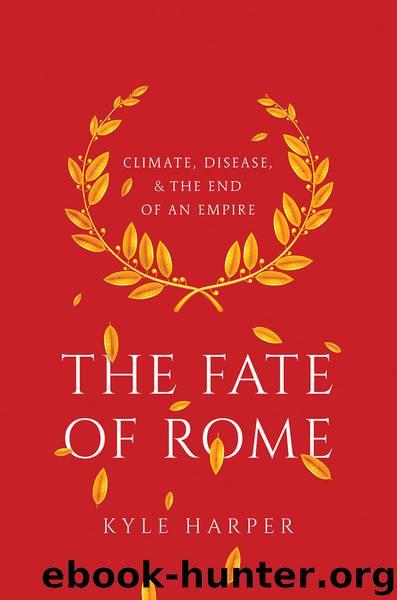 Author:Kyle Harper [Harper, Kyle]
Language: eng
Format: azw3, epub
ISBN: 9781400888917
Publisher: Princeton University Press
Published: 2017-10-02T04:00:00+00:00



NEAR TO ANNIHILATING THE HUMAN RACE
Procopius and John—each was quintessentially a man of the Justinianic age. Yet they were representatives of entirely different cultural worlds that had come to exist in uneasy proximity. Procopius of Caesarea was a traditionalist to the core. Trained in law, he entered the ranks of imperial service and became the legal advisor to the great general Belisarius, in whose gravitational field he trailed for the first half of Justinian's reign. Procopius wrote the most important history of the sixth century, a classicizing account of high politics. He is equally notorious for the lubricious Secret History, one of the greatest hit jobs in the annals of literature. Religion was not to his taste. The theological squabbling of his age wore his patience thin. "I consider it a sort of insane stupidity to investigate the nature of God, asking what sort it is. For man cannot, I think, accurately understand even human affairs, much less those pertaining to the nature of God." Procopius preferred to inhabit the sphere of classical Greek culture that deliberately stood a little to one side of the sweep of time.44
It is almost hard to believe that John of Ephesus was his contemporary. Precisely the bitter ecclesiastical conflicts that Procopius brushed aside were the consuming affair of John's life. Born in Amida, in the Syriac-speaking stretches of the eastern frontier, he was sent to a monastery in his childhood. He became a leader in the Miaphysite movement, caught up in the profound theological controversies about the nature of Christ that had riven the east since the doctrinal formulas of the Council of Chalcedon (AD 451). John arrived in Constantinople a religious exile. The churchman is best known as the author of an ecclesiastical history and a rich body of stories about eastern saints, preserved in his native Syriac. His world was framed by the shape of Biblical history. He had no doubts he was living in the stream of events foretold in the narratives of scripture.45
Procopius and John are an unlikely pair. They are bound forever by the happenstance that both of them witnessed the first visitation of the bubonic plague and lived to write vivid accounts of its devastation. We thus have two very different perspectives on the same event. For Procopius, this plague "that came close to wiping out the whole of mankind" was simply unaccountable. His report is, like that of Thucydides, dominated by a cool interest in the pathology of the disease and the immediate social trauma of mass mortality. For John, the plague was a chastisement. God's wrath fell upon the cities like a "wine-press and pitilessly trampled and squeezed all their inhabitants within them like fine grapes." The sins of the people, above all their greed, had called down the slaughter from heaven, "like a reaper upon standing wheat," who "mowed and laid down innumerable people of all ages, all sizes and all ranks, all together."46
We must approach our ancient accounts with a healthy balance of respect and caution.
Download


Copyright Disclaimer:
This site does not store any files on its server. We only index and link to content provided by other sites. Please contact the content providers to delete copyright contents if any and email us, we'll remove relevant links or contents immediately.