24 Hours in Ancient Rome by Philip Matyszak
Author:Philip Matyszak [Matyszak, Philip] , Date: December 24, 2017 ,Views: 1419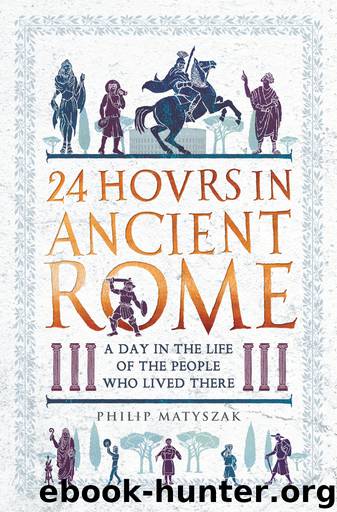 Author:Philip Matyszak [Matyszak, Philip]
Language: eng
Format: epub
Publisher: Michael O'Mara Books
Published: 2017-12-24T05:00:00+00:00



The customers are not entirely to blame. Many a Roman drinking house (popina) also serves as a brothel (lupanaria), just as other taverns also serve as inns or boarding houses, or combine all of these services. Many taverngoers automatically assume that the tavern girls are available, but that's not the case at the Ninth Pillar. Copa has no moral objections to prostituting her barmaids, it's just that it's wearisome sorting out fights between jealous customers on the one hand and jealous bar girls on the other, and it is downright annoying to lose good staff to pregnancy. So Copa keeps it clean – not out of morality, but for convenience.
Her work outside done, Copa makes her way back into the friendly shadows of her establishment. There's a fug of wood smoke from the cooking fires; the aroma of freshly baked bread mingles with the smell of the roasting ducks and asparagus that will make up today's main course. There's also the lingering fragrance of the applewood that Copa burns every morning to hide the sour stink of old wine and close-packed and poorly bathed humanity that is an inescapable part of every tavern's atmosphere.
There's also a positive racket of conversation. Syrisca isn't dancing right now (because the tavern is packed with customers), and though the patrons appreciate the show, they appreciate a good meal even more. For many of those present, the sixth hour marks the end of the working day, which began an hour before dawn. The plan now is to eat a square meal, wash it down with several beakers of watered wine, and head home to sleep before joining friends at dinner.
Consequently, Syrisca and two other serving girls are moving about busily carrying laden platters between the benches, amiably swatting away groping hands and exchanging low-quality witticisms and greetings with regular customers. There's a reason that coarse pick-up lines are called taberna blandita, for the mildly intoxicated patrons of the Ninth Pillar are as incapable of coming up with finely honed Latin epigram as the recipients are of appreciating them. Taverns have the reputation of being rather crude, earthy places, and the Ninth Pillar does its best to live down to that reputation.
Download


Copyright Disclaimer:
This site does not store any files on its server. We only index and link to content provided by other sites. Please contact the content providers to delete copyright contents if any and email us, we'll remove relevant links or contents immediately.