Alexander the Great by Philip Freeman
Author:Philip Freeman , Date: June 28, 2017 ,Views: 1373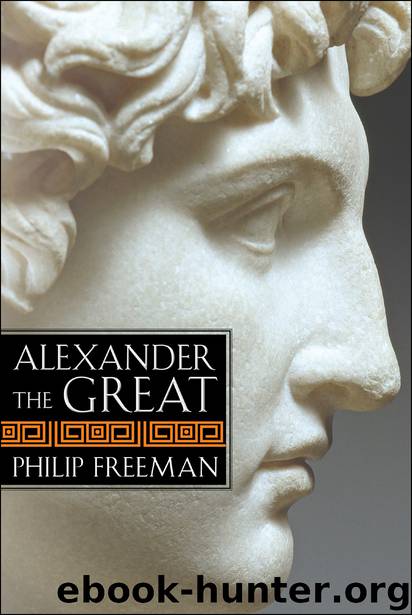 Author:Philip Freeman
Language: eng
Format: epub
Publisher: Simon & Schuster
Published: 2011-06-27T16:00:00+00:00



7
PERSEPOLIS
IS IT NOT PASSING BRAVE TO BE A KING
AND RIDE IN TRIUMPH THROUGH PERSEPOLIS?
—CHRISTOPHER MARLOWE
A few days east of Susa, Alexander and his army left the warm plains of Mesopotamia and entered the snow-covered mountains of Persia. These highlands were occupied by a people known as the Uxians, whose king, Madates, was a cousin of Darius. Although related to the royal family, they were a people apart who granted passage through their lands only to those who paid their price. Every Great King since Cyrus had given gold to the Uxian brigands to allow his men to travel the narrow gorges that were the only practical road between Susa and Persepolis. It was a bitter humiliation for the king of Persia to pay tribute to bandits, but given the inaccessible nature of the mountains no army had ever been able to subdue them or drive them out.
Messengers from the Uxians came to Alexander at his camp in the foothills and greeted the king with respect. They welcomed him to their land and—lacking loyalty to any but their own—had no objection to his passing through the mountains to attack Persepolis. But there was the small matter of the tribute payment. They would let his army cross in peace as long as he paid the same toll as the Great King. Alexander must have been a study in self-control at this moment, for he smiled and bid them to wait for him in the mountain pass, where they would receive his payment.
Darius and his predecessors may have given in to these highland bandits, but Alexander was not about to start his march into Persia by submitting to blackmail. He intended to teach the Uxians a lesson they would never forget. The king took several thousand of his best troops and led them through a narrow backcountry trail into the mountains accompanied by guides from Susa. There he found a number of Uxian villages nestled in the high valleys. One by one, he fell on them in the night and killed everyone he could find, many of them still in their beds. He took what little goods they had, mostly fine horses and sheep, but his real object was terror.
As he moved toward the pass where the Uxian warriors were guarding the main road, he sent his trusted lieutenant Craterus with a brigade of crack mountain troops into the peaks above them, knowing this is where the natives would retreat when he struck. The Uxians trusted the inaccessible terrain of their mountain home to protect them from enemies, but they had never dealt with men from the highlands of Macedonia and Thrace. These soldiers had grown up in mountains as rough as those they found themselves in now and felt perfectly at home scrabbling over rocks and ledges where wild goats were at home.
Alexander suddenly swept up from below toward the Uxians guarding the pass, so surprising them with his speed that they fled into the surrounding hills—only to find Craterus and his men waiting for them there.
Download


Copyright Disclaimer:
This site does not store any files on its server. We only index and link to content provided by other sites. Please contact the content providers to delete copyright contents if any and email us, we'll remove relevant links or contents immediately.