Babylon's Ark by Lawrence Anthony
Author:Lawrence Anthony , Date: August 23, 2017 ,Views: 1824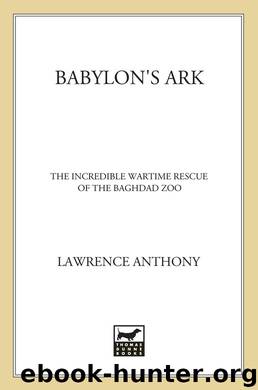 Author:Lawrence Anthony
Language: eng
Format: epub
Publisher: St. Martin's Press
Published: 2011-06-21T04:00:00+00:00



NOW I HAD ADDITIONAL HELP, I could start planning ahead further than twelve hours at a time and begin cementing some basic administration into place. Even though the Iraqi staff received regular rations, some of the food destined for animals was still being hijacked for their families. Although understandable, this posed a major problem and Stephan and I decided a daily communal meal should in future be cooked at the zoo to ensure everyone was eating at least once a day. It was vital the staff know that even though our primary mission was to save the animals, we still placed humans first. This may sound obvious, but chronic insecurities die hard in a country as brutalized as Iraq.
Stephan also offered for WildAid to pay ten dollars per month to all staff members while he was there. This may sound small, but when you consider that professionals in Baghdad such as Adel and Husham probably only earned thirty or forty dollars monthly, it was well received.
I also asked Stephan to be responsible for feeding Uday's lions, which were still being caged at the palace. Stephan was happy to do so, and so I introduced him to the SF soldiers who had taken such an interest in Brutus, Heather, and Xena. This took another immediate problem off my back. Stephan soon became part of the team and made a valuable contribution in difficult times.
Finally we got some good news. The Coalition Administration decided to share some of the Hussein family's billions with the people of Iraq and everyone was to receive an instant payout of twenty dollars, the equivalent of a month's salary to most citizens. Thanks to Sumner 's persistence, the zoo staff would be among the first to receive the gift.
We heard the members of the media were scheduled to arrive at the zoo with the paymaster to record the big event, and on the morning of bonus day we worked feverishly trying to spruce up everything as best we could.
Unfortunately, Kazim, our butcher, decided to have a private celebration and arrived at the zoo staggering drunk—most unusual for a Muslim man. Shoving his way forward, shouting and singing, he had everyone's attention when for some bizarre reason he pulled his white caftan over his head. This graphically revealed to all, including the cameras, that perhaps Kazim had some Celtic blood in him, for he wore nothing under his desert kilt.
To make matters worse, he got his head tangled in his clothing and, unable to see where he was going, stumbled around like a vaudeville clown, basically stark naked. This certainly provided some lighthearted entertainment for the rest of us until Adel led him away.
The Coalition Administration also announced that in a bid to get civic services up and running, all municipal workers—which included zoo staff—would be placed on an official payroll as soon as bureaucratically possible. With this announcement most of the zoo employees returned to work, including an amiable old man who knew just a single phrase of English: "I am Salman; I work tiger, lion, thirty years.
Download


Copyright Disclaimer:
This site does not store any files on its server. We only index and link to content provided by other sites. Please contact the content providers to delete copyright contents if any and email us, we'll remove relevant links or contents immediately.