Hedgerow by John Wright
Author:John Wright , Date: May 3, 2018 ,Views: 2702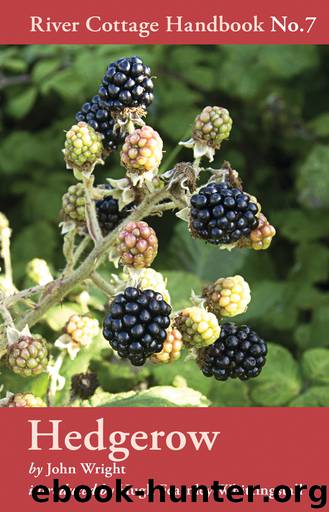 Author:John Wright
Language: eng
Format: epub
ISBN: 9781408896358
Publisher: Bloomsbury Publishing
Published: 2017-05-03T04:00:00+00:00



Spearmint Mentha spicata
DESCRIPTION Medium, upright perennial, to 70cm. Leaves distinctly pointed/oval, with neat saw-toothed edge, bright green, almost unstalked, mostly hairless. Stems square in section. Flowers lilac, central spike and some on stalks from the leaf joints. Smells intensely of spearmint!
HABITAT Roadsides, waste ground. Often a garden escapee
DISTRIBUTION Frequent throughout the British Isles, but less common in Scotland, Wales and Lincolnshire. Rare in Ireland
SEASON May–October
Apart from the ubiquitous and delightful Watermint, the most common of all Mentha species is Corn Mint (M. arvensis). Unfortunately this is not a great asset in any kitchen so I have passed it by; the naturalist and writer Geoffrey Grigson famously describes it as smelling of 'mouldy Gorgonzola'. There are, however, several other, more useful mints which the habitual country rambler is likely to encounter. Perhaps the best of these, certainly the smelliest, is the ancestor of many of our garden varieties, Spearmint.
The flavour of Spearmint needs no introduction but the wild plant will not be familiar to many people. It is, however, one of the easiest of the mints to identify with its ragged-edged, bright-green leaves and, most of all, its toothpaste smell. I know it from several locations, though nowhere near as many as Watermint, and in one of these (a country lay-by) it grows in vast profusion. Spearmint is an introduced species which has become naturalised. For this reason it is often found near habitation.
As with Watermint, Spearmint is best employed in sweet dishes and in drinks, though it has been used in the past – as its garden descendant is today – with lamb.
Also look out for any number of other mints. There are at least a dozen of these if the hybrids are included. The one pictured here is Round-leaved or Apple-scented Mint (M. suaveolens), a native species found scattered all over the British Isles but more frequent in the Southwest. It is one of the commonly cultivated species and you are quite likely to find it near habitation.
Download


Copyright Disclaimer:
This site does not store any files on its server. We only index and link to content provided by other sites. Please contact the content providers to delete copyright contents if any and email us, we'll remove relevant links or contents immediately.