The Plant Messiah by Carlos Magdalena
Author:Carlos Magdalena , Date: April 4, 2018 ,Views: 2286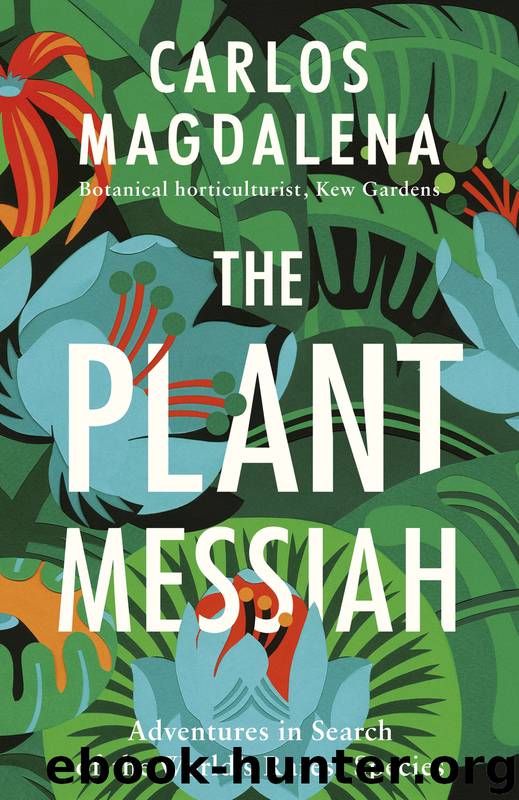 Author:Carlos Magdalena
Language: eng
Format: epub, mobi
ISBN: 9780241979303
Publisher: Penguin Books Ltd
Published: 2017-04-29T04:00:00+00:00



10
Warm Waterlilies
A passion for plant conservation. A long-term love affair with waterlilies. I began to wonder if there was a way of bringing them together. Was there a waterlily out there that was extinct – or critically endangered – that I could help to save? There certainly wasn't an iconic story like Elaeocarpus bojeri in Mauritius – but perhaps that was because no one had ever looked.
I started working my way through the catalogue of waterlily species, and discovered that Nymphaea stuhlmannii from Tanzania – one of only three yellow waterlily species in the world – was feared extinct. No one had collected herbarium specimens since the early twentieth century. Attempts had been made to find it many years ago, but with no luck.
Then there was Nymphaea divaricata, which is remarkable. It is one of only two waterlily species that don't grow floating pads – its leaves are underwater and shaped like a bow tie. It lives in rivers and dissipates the energy created by the current by swinging back and forth like the blades of a propeller. All you see from the shore are waterlily flowers popping out of nowhere. I have never seen a picture of it and don't know if there are many specimens about; I have only seen them in the herbarium at Kew (which demonstrates the importance of herbarium specimens). It was last seen around fifty years ago in Zambia, and has not been seen since. As far as I'm aware, no one has specifically searched for N. divaricata, despite its history of being found in three countries – Angola, Zambia and Zaire. Now we can use drones and satellites to help us, and surveillance photography is better than ever (Google Earth proves that the habitat where N. divaricata was last collected is still there), but information about them is still scarce. I would love to go and search for them one day. So far, collecting permits, bureaucracy, funding and time have kept me from chasing this particular dream.
Then I read about another African waterlily, Nymphaea thermarum, a tiny species that had only recently been found, and only in one location. It is a waterlily that breaks the rules. It doesn't grow in a stream; it doesn't grow in a river; it doesn't even grow in a lake.
It grows in hot springs.
'I need to grow this,' I thought.
Something was telling me that a single location for an aquatic plant was the perfect recipe for extinction. I asked colleagues at Kew and other experts around the world, and discovered that there were fifty plants left in the wild and two in cultivation, but no one knew how to propagate them. This was my chance. There would be no better waterlily with which to become obsessed.
In 1987, Professor Eberhard Fischer, then a 25-year-old German undergraduate, was out in the Rwandan wild, researching the vegetation of the Albertine Rift. Bad luck dictated that his car broke down, but good luck meant he spent several days camping next to the hot springs called Mashyuza, in the Bugarama Plain, where he discovered a tiny waterlily.
Download


Copyright Disclaimer:
This site does not store any files on its server. We only index and link to content provided by other sites. Please contact the content providers to delete copyright contents if any and email us, we'll remove relevant links or contents immediately.