A Forest Journey by John Perlin
Author:John Perlin , Date: December 18, 2017 ,Views: 2420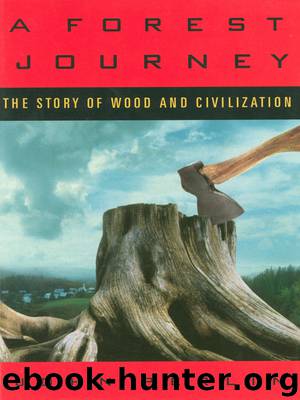 Author:John Perlin
Language: eng
Format: epub
Publisher: Countryman Press
Published: 2013-12-18T05:00:00+00:00



An Alternative to the Baltic
Early English visitors to New England soon sent word that the many large trees growing in its forests could happily solve England's dependency on foreign masts. In 1602 John Brereton accompanied the first English party to set foot in New England. He felt that the settling of New England would serve as "a matter of great consequence for the … security of England …" since Britain could bring from its very own colony masts "free from restraint of any other prince."
The debut of the New England mast trade took place thirty-two years later. A terse statement to Charles I's secretary, Sir John Coke, announced that "a ship returned … to … England which took in masts for her freight homeward. This is the first ship." The notice marked the beginning of a new era in English maritime history.
One shipload of masts did not a navy make. However, it whetted the appetite for more and gave hope that one of England's pressing problems would some day be solved. Sir Henry Vane, high in the Commonwealth's esteem for his participation in the regicide of Charles I, pointed out that "it was politic to invite the New Englanders to produce in British territory the essential masts" rather than having to gamble on the mood of a foreign ruler for their supply. The leaders of the Commonwealth listened to arguments such as Vane's. The commissioners of the navy began conferring with "New England men concerning masts … from New England for the use of the Commonwealth." As a result of these discussions, the ruling Council of State wrote the following to their "loving friends, the Governors and Commissioners of … New England: Having considered the occasion the Commonwealth has for … masts … and how they may be supplied from New England … [we] give all due encouragement … so as … to render the supplies more certain and less dependent on other countries …"
The letter indicated a shift in naval procurement policies and brought about a regular transatlantic trade in masts. At least ten shiploads of masts arrived from New England each year. Each ship carried from twenty to forty masts. By the early 1700s the Privy Council reported "ships … constantly loading [in] New England with masts."
The work of the mast cutters fascinated New Englanders, and many came to watch them. Judge Samuel Sewall, a member of the ruling Council of Massachusetts, was among the curious. He rode to see, as did others, the carriage of a mast tree. " 'Twas a very notable sight," according to Sewall. He recorded in his diary that "36 yoke of oxen pulled it."
As New England masts came from land owned by England, the British felt quite sure that they might obtain whatever quantities they needed, evidently without fully considering the problem of transporting them across the Atlantic. Getting the masts to England without enemy harrassment proved difficult. The Dutch took at least two ships carrying masts from New England in the first year of regular trade.
Download


Copyright Disclaimer:
This site does not store any files on its server. We only index and link to content provided by other sites. Please contact the content providers to delete copyright contents if any and email us, we'll remove relevant links or contents immediately.