Project Animal Farm: An Accidental Journey into the Secret World of Farming and the Truth About Our Food by Sonia Faruqi
Author:Sonia Faruqi [Faruqi, Sonia] , Date: October 13, 2015 ,Views: 2454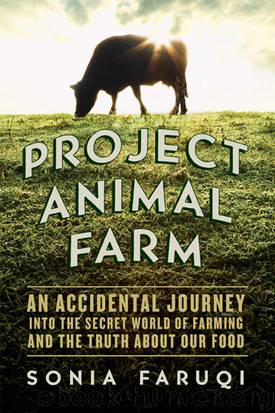 Author:Sonia Faruqi [Faruqi, Sonia]
Language: eng
Format: epub, azw
Publisher: Pegasus
Published: 2015-07-14T22:00:00+00:00



Sofia went to an island called Sulawesi to snorkel and dive, and I returned to Bali to study animal farming. I went to a Hindu neighborhood in the north of the island called Danau Bratan (Daan-o-Brataan), a spectacular, mystical-looking cluster of villages nestled in the mountains, where the clouds seemed to travel through the trees.
As I was exiting Danau Bratan's botanical gardens, I passed by a large sign: PICK YOUR OWN STRAWBERRIES. A man stood beside the sign with a yellow basket. He thrust the basket into my hands and opened the gate to his strawberry garden. Unwilling to offend—a pushover when it comes to such matters—I agreed to pick my own strawberries. But just when I started collecting them, the strawberry farmer trailing me like he feared I'd sneak some into my pocket, the clouds lashed us with a torrent of rain.
The farmer indicated a ramshackle shed to the side. We rushed in for shelter. He sat on a rickety chair, and I squatted on a footstool among soil tools and fertilizers. The rain pounded overhead, drumming a violent beat on the tin roof. The gardener's name was Agung. In only a matter of days, he would become among my closest friends in the world. In only a matter of weeks, he would be dead.
Agung was dressed like a Californian, in a white T-shirt, blue jeans, and baseball cap. He removed his baseball cap to dry it, revealing a smooth expanse with a shrub of hair around the perimeter. He smiled brightly, the smile adding childlike contours to a tanned countenance as round as the moon.
"Don't worry, be happy," he advised when he noticed me frowning at the rain. Those four words seemed to be Indonesia's motto, for people said them to me often. I hadn't realized before how frantically worried I looked. Agung, in contrast, exuded serenity and bliss, his face as unmarked as Buddha's. Later, he would share with me his secret: he meditated daily.
Agung had four tattoos, one on his chest, two on his right arm, and one on his left arm. All of them had their own significance, he explained. The bird on his chest represented freedom and grace. The sailboat-in-a-storm adorning one muscular arm represented the "crowded mind" he'd once possessed. The white woman's face tattooed above the sailboat represented Angelina Jolie, because he found her mesmerizing. His right arm was engraved with a roaring tiger, because "When I was in school, I was in a motorbike gang called Night Tigers." Agung also wore a sparkling, heart-shaped earring in one ear, because "Maybe I was woman in previous life."
A woman entered the shed. She was petite, dark-skinned, and strong-jawed, her shoulder-length black hair streaked rebelliously with auburn highlights. Her hands held two umbrellas and two cell phones. She was Agung's wife, Sri Kartika, and the only woman smoker I met in Indonesia, a fuming cigarette tucked eternally between her lips, smoking two packs a day to her husband's three.
Agung and Sri Kartika were both in their early forties and had met and married in their early thirties.
Download


Copyright Disclaimer:
This site does not store any files on its server. We only index and link to content provided by other sites. Please contact the content providers to delete copyright contents if any and email us, we'll remove relevant links or contents immediately.