MOSES THE EGYPTIAN by Jan Assmann
Author:Jan Assmann [Assmann, Jan] , Date: December 29, 2017 ,Views: 1787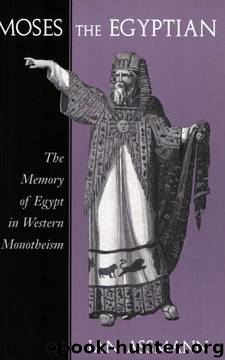 Author:Jan Assmann [Assmann, Jan]
Language: eng
Format: mobi
Published: 2012-08-31T19:26:00+00:00



Hen kai Pan: The Return of Egyptian Cosmotheism
On August 15, 1780, Gotthold Ephraim Lessing wrote the words Hen kai pan ("One-and-All") in Greek characters on the wallpaper of Gleim's garden house near Halberstadt, which was used as a guestbook.132 Five years later, after Lessing's death in 1781, Friedrich Heinrich Jacobi revealed the secret of this motto when he published his conversations with Lessing in a booklet called On the Doctrine of Spinoza, Exposed in the Form of Letters Addressed to Moses Mendelsohn (1785).133 The secret meaning of the motto was deus sive natura; it was a declaration of Spinozism.
Jacobi had visited Lessing, a fellow Freemason,134 for the first time in 1780. In the course of a conversation on Goethe's (then unpublished) poem Prometheus, Lessing exclaimed: "The orthodox concepts of the divine are no longer for me. I cannot stand them. Hen kai pan! I know naught else." Jacobi: "Then you would indeed be more or less in agreement with Spinoza." Lessing: "If I am to call myself by anybody's name, then I know none better."135
The news of Lessing's Spinozism exploded like a bomb. Even Lessing's closest friends, including Moses Mendelssohn, did not know about it. Even in the seventeenth century, when the discourse on Moses and Egypt started to become an axial issue for the European Enlightenment, the figure of Spinoza had been lurking in the background. Spencer and Cudworth wrote their books just after the publication of Ethica (1677) and Tractatus Politico-Theologicus (1670). With Lessing's Hen kai pan, the reaction to Spinoza entered a new phase. These words and Jacobi's publication triggered "one of the most significant debates for the emergence of a modern view of the world and one that considerably shook the self-confidence of the German Enlightenment."136 It is important to realize that Reinhold and Schiller wrote their essays on Moses and Egypt in the immediate context of this debate. Reinhold even took an active part in it.137 Hen kai pan, or the "One-and-All" immediately became a common motto, appearing in the writings of Herder, Hamann, Holderlin, Goethe, Schelling, and others (many of them, Freemasons).138
Download


Copyright Disclaimer:
This site does not store any files on its server. We only index and link to content provided by other sites. Please contact the content providers to delete copyright contents if any and email us, we'll remove relevant links or contents immediately.