The MacArthur Bible Commentary by John MacArthur
Author:John MacArthur [MacArthur, John] , Date: September 28, 2017 ,Views: 3883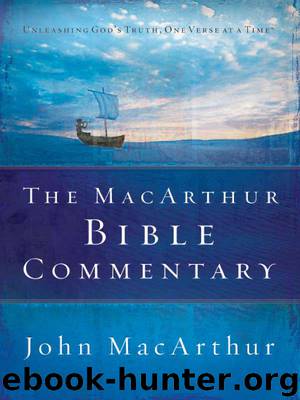 Author:John MacArthur [MacArthur, John]
Language: eng
Format: epub, mobi
Tags: book
Publisher: Thomas Nelson
Published: 2005-05-09T16:00:00+00:00



God's Judgment Against Assyria/Nineveh
IN RETROSPECT—Fulfilled
1. Jer. 50:17, 18
2. Ezek 32:22, 23
IN PROSPECT—Prophesied
1. Is. 10:5
2. Is. 10:24-27
3. Is. 14:24, 25
4. Is. 30:31-33
5. Is. 31:8, 9
6. Mic. 5:5, 6
7. Nah. 1:1
8. Nah. 2:8
9. Nah. 3:7, 18
10. Zeph. 2:13-15
The MacArthur Study Bible, by John MacArthur (Nashville: Word Publishing, 1997) 1312. © 1993 by Thomas Nelson, Inc.
2:6 gates of the rivers. Nineveh, lying at the confluence of three rivers (the Tigris and two smaller rivers), constructed dams to minimize the damage of seasonal flooding to her walls. The latter part of verse 6 suggests that these dam gates were opened, causing the walls to be dissolved and the palace to be taken (cf. Introduction: Historical and Theological Themes; 1:8).
2:7 She shall be led away captive. The goddess of Nineveh, probably Ishtar, was taken away by her attackers to demonstrate the superiority of their gods (cf. 1 Sam. 4:1–11). The temple prostitutes ("maidservants") mourned the fate of their goddess.
2:8 pool of water. Though Nineveh was like an oasis in the desert that attracted many people, they fled from the devastation.
2:9 Take spoil. Spoils abounded in Nineveh, but it was her turn to be plundered.
2:10 heart melts. The great city of Nineveh, lying in ruin, evoked fear and terror in those who observed it (cf. Dan. 5:6).
B. The City Is Discredited (2:11–13)
Download


Copyright Disclaimer:
This site does not store any files on its server. We only index and link to content provided by other sites. Please contact the content providers to delete copyright contents if any and email us, we'll remove relevant links or contents immediately.