Ancient Near Eastern Thought and the Old Testament by John H. Walton
Author:John H. Walton , Date: May 28, 2018 ,Views: 1718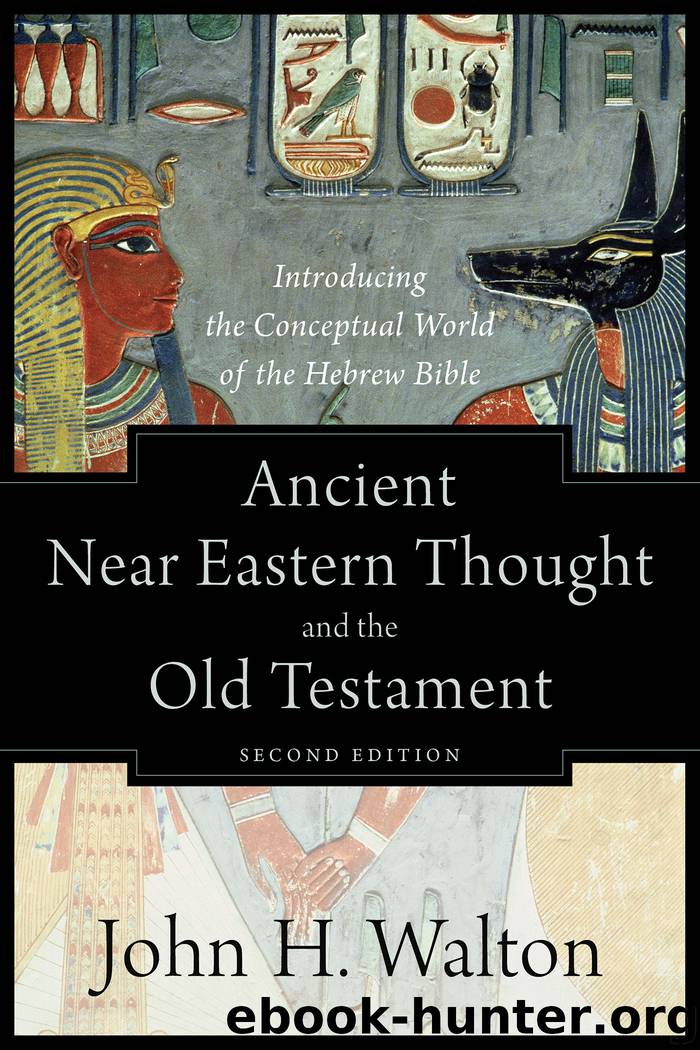 Author:John H. Walton
Language: eng
Format: epub
Tags: Old Testament Backgrounds;Middle Eastern literature—Relation to the Old Testament;Bible (Old Testament—Criticism| interpretation|etc);Bible (Old Testament—Comparative studies);Bible (Old Testament—Extra-canonical parallels);REL006000;REL006090
ISBN: 9781493414369
Publisher: Baker Publishing Group
Published: 2018-04-03T04:00:00+00:00



Every account of human origins seeks to address similar archetypal issues. They mirror what we already found in our discussion of cosmology—the accounts focus on functional issues rather than material ones. Order is established through identity. This may sound like an unusual statement to make since all of these accounts make specific references to the materials used for the creation of humans. But the materials mentioned serve to address archetypal issues (connectivity, relationships, roles) rather than to penetrate material ontology (let alone chemical composition). This is not to say that the ancients were speaking metaphorically rather than literally, for this goes far beyond a literary or rhetorical device. The accounts address the topic by using archetypes, which express the most important realities in this cognitive environment. Materials are mentioned for their archetypal significance, not for their physical significance. Blood and flesh of the deity signify connection to deity. Clay or dust signifies connection to the land. The connections described by these archetypes offer information concerning the ancient corporate self-understanding.
In the ancient Near East, one might claim that, given the collective nature of their self-understanding, even self-awareness had a fundamentally archetypal value. "An appraisal of the Babylonian conception of the person should begin with the reminder that the notion of personhood is not a universal and innate category. The modern concept of person is in fact a long way removed from the view of the ancients. . . . In ancient cultures, such as Mesopotamia, the human person is understood as a character or a role, rather than as a personality; the individual is not a personne (person) but a personage (character)."24
In this regard it would be inherently contradictory for the Akkadian literature to begin with individual persons. It is to some degree anachronistic for us to raise such issues.25 In Genesis 1 all other living creatures are created in populations (birds, fish, animals of every sort), and nothing in Genesis 1 suggests that humanity should not be thought of the same way.
Download


Copyright Disclaimer:
This site does not store any files on its server. We only index and link to content provided by other sites. Please contact the content providers to delete copyright contents if any and email us, we'll remove relevant links or contents immediately.