What Alice Forgot by Liane Moriarty
Author:Liane Moriarty , Date: March 25, 2014 ,Views: 3599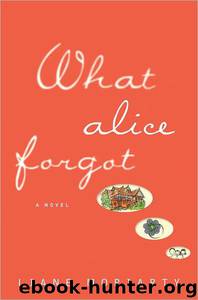 Author:Liane Moriarty
Language: eng
Format: mobi, epub
Tags: Romance, Young Adult, Fiction.Contemporary, fiction
ISBN: 9781101515372
Publisher: Penguin Group USA
Published: 2009-01-01T00:00:00+00:00



Chapter 19
It was five-thirty p.m., Sunday afternoon. In half an hour Nick would be home with the children.
Alice had a sick, excited feeling in her stomach as if she were going on a first date.
She'd been wearing a pretty floral dress and makeup, her hair all fluffy and motherly, when she decided that she was trying too hard. Presumably she didn't normally dress up like a 1950s mother at a fancy-dress party. So she'd run back upstairs and scrubbed off the makeup, and pulled the dress over her head in mad panic. She'd found jeans and a white T-shirt, and flattened her hair. No jewelry except for Nick's bracelet and her wedding ring, which she'd found at the back of a drawer, together with Granny Love's engagement ring. It had been yet another fresh shock to find these symbols of her marriage carelessly tossed in with her underwear. She remembered when Nick had placed the wedding ring on her finger for the first time. Most grooms were clumsy at this point, grinning goofily, soft chuckles from the guests, but Nick had smoothly, tenderly slid it onto her finger in one go, his eyes locked on hers; she'd been proud. He was so dexterous.
With this ring I thee wed . . .
. . . until I thee divorce.
She wondered why she hadn't given the awful engagement ring back. Wasn't the ring normally torn from the finger and thrown at the man's face in a fit of rage at some point during a divorce?
She looked at herself in the bedroom mirror. This was much better, casual, unaffected—although her face looked pale and very old; she resisted an intense longing to go through that amazing dab, dab, slap, slap routine again that transformed her face. Surely she didn't normally wear makeup on a Sunday night at home.
Earlier in the day, after Elisabeth and Ben had gone home, it had suddenly occurred to Alice that it was presumably her responsibility to feed those three children. She had called her mother and asked her what she should cook for dinner, saying she wanted to cook their favorite thing. Barb had spent a full twenty minutes discussing each child's dietary idiosyncrasies throughout their lives. "Remember when Madison went through that vegetarian stage? And of course it would have to be at the same time that Tom was just refusing to eat any vegetable. Then Olivia couldn't decide whether she should only eat vegetables, like Madison, or refuse to eat vegetables, like Tom! Oh, you were tearing your hair out every tea time!" At last, after much changing of her mind, she'd finally settled on homemade hamburgers. "I think you found a healthy recipe in your Heart Foundation recipe book. You were saying just the other week that you were sick to death of it but the children can't get enough of it. I'm sure you remember that, don't you, darling? Because it was only last week."
Alice had found the recipe book and it had opened straight at the right food-splattered page.
Download


Copyright Disclaimer:
This site does not store any files on its server. We only index and link to content provided by other sites. Please contact the content providers to delete copyright contents if any and email us, we'll remove relevant links or contents immediately.