THE ONE YOU CANNOT HAVE by Shenoy Preeti
Author:Shenoy, Preeti [SHENOY, PREETI] , Date: November 23, 2017 ,Views: 2666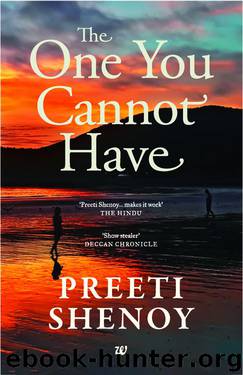 Author:Shenoy, Preeti [SHENOY, PREETI]
Language: eng
Format: epub
Published: 2014-01-23T00:00:00+00:00



Chapter 17
Shruti
My illness turns out to be nothing at all. Just a day of rest and I feel fine. I was probably right—it must have been indigestion. I am glad that I didn't go rushing to the doctor who would have in all likeliness ordered a battery of tests. Even though I am very tempted by Asha's suggestion—to contact Aman once more, and try and meet him, if only to get some sort of a closure—I don't do anything about it.
Asha, of course, confronts me the next day in the bus on the way to work.
'So, are you okay now?' she asks as she sits down beside me.
When I reply that I am indeed okay, she straightaway asks me, 'Did you write to him? Find out how he is? Where he is?'
'No Asha, I didn't.'
'But why? You want to know, na,' she persists.
'I do, but what good will it do me? I am married now. It's been almost two years.'
'Come on. Just because you are married, it doesn't mean you don't have a right to know!'
'It isn't about rights, Asha, it is about duties and responsibilities.'
'Stop talking like a sixty-year-old! What duties and responsibilities? Has Rishabh even spoken to you for the last one month? Is he even bothered about what you might be feeling?'
'He is hurt, Asha. He feels he has been wronged. I guess he will come around, eventually.'
'Haan, so let him. There is nothing wrong in contacting Aman. I am telling this to you, as a friend. You know, I had this relationship with a senior from my college. But we broke up, much like you and your Aman. I wondered how he was and what he is doing. I contacted him after about six years. He too is married like me and he has a daughter. He has settled down in New Zealand and is happy. We still keep in touch through mails and phone-calls. We're good friends now and we are happy with our respective families. Had I not made that effort in contacting him, I would have probably always wondered and maybe even felt guilty. But now I gained a good friend and so did he. That is why I am urging you to contact him. You have nothing to lose.'
I think about what Asha has just said. Perhaps she has a point there. But we don't get a chance to speak further as another colleague joins us and this is something which is just between Asha and me. So we change the topic and talk about inane stuff.
Once we reach office, we get busy in our work, but we catch up again during lunch hour, at the cafeteria. We always have lunch together and today we take a table which can seat just two people. Asha senses I want to talk. We continue exactly where we left off. I am very curious now about this double-life that Asha seems to be leading. Okay—not exactly a double life but a secret that she has so carefully tucked away.
Download


Copyright Disclaimer:
This site does not store any files on its server. We only index and link to content provided by other sites. Please contact the content providers to delete copyright contents if any and email us, we'll remove relevant links or contents immediately.