Churchill by Paul Johnson
Author:Paul Johnson , Date: March 25, 2014 ,Views: 1803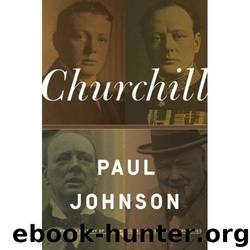 Author:Paul Johnson
Language: eng
Format: mobi, epub
Tags: Autobiography, Postwar 20th century history, Psychohistory, Political, Literary, Great Britain, Political leaders & leadership, British & Irish history, Europe, Great Britain - History - 20th Century, Historical - British, Historical - General, Biography: Historical, Historical, Military, History, from c 1945 to c 2000, Presidents & Heads of State, Political & Military, General, Biography & Autobiography, Biography
ISBN: 9780143117995
Publisher: Penguin Group USA
Published: 2010-08-14T07:00:00+00:00



Chapter Five
The Unregarded Prophet
Now began the hardest, harshest period of Churchill's life. He was lucky to have a safe seat where he was active, was much loved, and had many faithful friends. Otherwise he might have been extinguished as a politician and become instead a professional writer, for which he had reliable talents. He was lucky to have an adoring (but wise and sometimes critical) wife and a growing family of children who were his warmest supporters. Lucky to have Chartwell, a burgeoning personal paradise where he could lick his many, and often serious, wounds. Lucky to have his art, doing more paintings in this decade (250 out of the 500 that have survived) than in any other. Lucky, above all, that events suddenly gave him a clear vision of what was happening in the world, and what would happen unless he prevented it by his amazing gifts and energies.
The picture cleared early in 1933, when Adolf Hitler captured power in Germany and immediately set about his own plan to destroy Versailles and make Germany the strongest power in Europe, and eventually the world. Churchill had read Mein Kampf and believed it represented Hitler's plain intentions. So did Hitler. "My programme from the first was to abolish the Treaty of Versailles . . . I have written it thousands of times. No human being has ever declared or recorded what he wanted more often than me." There was no British response to Hitler's arrival in power. Churchill had already pointed out that the Germans had been breaking the provisions of the Versailles Treaty, which forbade the creation of a large army, for some time, by buying heavy weapons from the Soviet Union. Hitler merely accelerated the process. Few people had read Mein Kampf; fewer still believed it. In government circles Hitler was seen as a deluded adventurer who would soon be discarded. The mood of the country was highlighted by a provocative debate at the Oxford Union, in which the undergraduates voted 275-153 for the motion "That this House refuses in any circumstances to fight for King and Country." Churchill called "that abject, squalid, shameless avowal . . . a very disquieting and disgusting symptom." His son, Randolph, now grown up, noisy and attention seeking, often in ways which caused his father acute embarrassment, made a much-publicized attempt to tear the record of the debate out of the Union's book of minutes. Later, Churchill himself calmed down and said, "When it comes to the crunch [a word he invented in this sense] those young men will fight just as their fathers did"—as indeed happened in 1939-45. The future Lord Longford, then a young man, provided a vignette of Churchill in autumn 1935, entertaining young people to lunch at Chartwell. He had spent the morning writing and laying bricks (he told Baldwin he could do two hundred bricks and two thousand words in a day) and was grumpy at first. "But as the wine flowed his eloquence expanded and for three hours the small company were treated to a harangue I have never heard equalled.
Download


Copyright Disclaimer:
This site does not store any files on its server. We only index and link to content provided by other sites. Please contact the content providers to delete copyright contents if any and email us, we'll remove relevant links or contents immediately.