Jesus by Paul Johnson
Author:Paul Johnson , Date: December 18, 2017 ,Views: 1727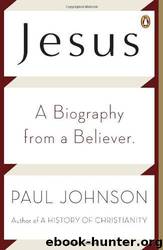 Author:Paul Johnson
Language: eng
Format: mobi, epub
Publisher: Penguin Group US
Published: 2010-06-15T21:00:00+00:00



VI
Encounters: Men, Women, Children, the Aged
ALTHOUGH JESUS constantly addressed crowds in synagogues, in the open, and in packed private houses, he spoke directly to each individual who composed them. It was his gift and also his philosophy. Each human being was a unique, priceless entity loved by God as a person, so that, as Jesus said, "the very hairs of your head are all numbered" (Lk 12 : 7). Jesus's love of people, as individuals, was in some way his most striking characteristic. He never tired of talking to them and penetrating their secrets. They were drawn to him and only too willing to divulge them. His life was a series of public meetings punctuated by casual encounters which turned into significant events. Jesus not only encouraged these encounters but treasured them. He remembered every word spoken. He clearly recounted them to his disciples, and that is how they reached the evangelists, who recorded them for us. For in most of them Jesus and the individual concerned were alone together—even if a babbling, pushing crowd surrounded them. These episodes, though often brief, form the human core of the New Testament and provide a unique satisfaction to the reader. There is nothing like them in the entire literature of the ancient world, sacred or secular.
Jesus's encounter with Andrew, immediately after his baptism, is a foretaste. It was Andrew who came up to him (with a companion who is nameless). There was something about Jesus's appearance, the way he held himself, the steadiness of his gaze, which attracted people. They felt he was open, that he would receive them as a friend and talk to them. Indeed, Jesus's manifest and responsive friendliness was his most striking quality, and it was apparent from the start. He directed it to all, but made each feel selected and treasured. Yet there was nothing professional about it. It came from his heart—there could be no mistake about that. According to John 1:37-42, when Andrew and his friend followed Jesus, he turned and said, "What seek ye?" Andrew said, "Master, where dwellest thou?" To which Jesus replied, "Come and see." They "abode with him that day: for it was about the tenth hour." The exact time when Andrew met Jesus is not obviously relevant, yet somehow it seems so. The friendship ripened immediately, and Andrew introduced his brother Simon to Jesus the next day. There was an instant rapport, so that Jesus immediately gave Simon a new name, or nickname, Cephas (or Peter), meaning solid as the rock. He gave John and James, another pair of brothers, a nickname, too: "sons of thunder" (Mk 3:17). Jesus loved such names as a pledge of friendship or intimacy. Their use among themselves sealed their comradeship in their immense task of turning the world upside down, making spiritual values triumph over material ones. It is curious to think that this haphazard and unplanned meeting with Andrew was to begin a long story which was to end, for him and his
Download


Copyright Disclaimer:
This site does not store any files on its server. We only index and link to content provided by other sites. Please contact the content providers to delete copyright contents if any and email us, we'll remove relevant links or contents immediately.