The Cut by Christopher Brookmyre
Author:Christopher Brookmyre [Brookmyre, Christopher] , Date: April 8, 2021 ,Views: 52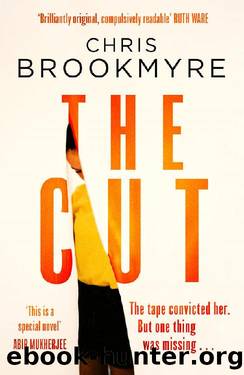 Author:Christopher Brookmyre [Brookmyre, Christopher]
Language: eng
Format: epub
Publisher: Little, Brown Book Group
Published: 2021-03-03T16:00:00+00:00



Lost
Millicent felt uncomfortably conspicuous in the wheelchair, but after encountering their first car since sitting down, she deduced that this was less resultant of her fear of being seen than her self-consciousness about being perceived as infirm. Being perceived as an old lady.
A voice in her head reminded her she was seventy-two. Its tone was neutral however, so she couldn't say whether it meant how do you expect to be perceived, you're ancient; or, how ridiculous, it's not like you're ninety.
A line from a movie popped up, Pauline Collins reassuring her reflection.
'Shirley, you're only seventy-two.'
Except that it was forty-two. Shirley Valentine was forty-two.
She remembered when seventy-two sounded like the nadir of dotage and decrepitude. It was a good thing nobody could have told her at the start of her sentence what age she would be when she left prison. She would have killed herself within the first month.
She realised she had never stopped to contemplate the reality of what seventy-two actually felt like. Since her release, she had been so fixed upon what was behind her that she hadn't contemplated the physical condition she was in. And the truth was, she didn't feel like an old lady. She felt fitter than in her forties. Back then she had habitually abused and neglected herself by combining borderline alcoholism with full-blown workaholism. These days, she walked several miles every day, because she could. Even in prison, she had exercised a lot, because there was bugger-all else to do.
The bottom line was, she was a long way from needing a wheelchair.
'Can you look up flights on your phone?' she asked. 'Or do you need to get back to the house and use your computer?'
'No, I can do that. One-handed,' he added archly, emphasising the role he had been allotted, like it was a metaphor for a whole lot more besides. 'Do you just want non-extradition countries, because I don't think there's a sort filter for that.'
She ignored the snarky tone.
'Look up Rome.'
'On it. Any particular reason?'
'It's a big anonymous metropolis with masses of tourists. And it's somewhere I know, so it's a place I can get lost but not feel lost.'
'You mean somewhere you knew,' he replied disdainfully. 'Three decades ago.'
'It's not Milton Keynes. There's a reason they call it the Eternal City. Just tell me when we can get there.'
'Not today, if we're talking Glasgow or Edinburgh. Should be flights via London. Let me check.'
This sounded less than ideal but it might have to do. As Jerome had observed, the clock would start running as soon as the body was found. When the police asked if anyone saw anything unusual in the area, there would be two cops with an answer worth investigating. She had read about facial recognition and all that electronic surveillance. It sounded like Heathrow might be a very easy place to get caught. Ideally, she wanted to be wheels-up before dawn, preferably bound for the continent.
'Aye, there's a couple we could get. It willnae be cheap, though. Would
Download


Copyright Disclaimer:
This site does not store any files on its server. We only index and link to content provided by other sites. Please contact the content providers to delete copyright contents if any and email us, we'll remove relevant links or contents immediately.