The Cellar by Natasha Preston
Author:Natasha Preston [Preston, Natasha] , Date: March 25, 2014 ,Views: 2328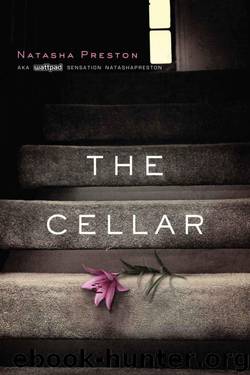 Author:Natasha Preston [Preston, Natasha]
Language: eng
Format: epub, mobi
Tags: Juvenile Fiction, Mysteries & Detective Stories, Law & Crime
ISBN: 9781492600978
Google: GoHfAgAAQBAJ
Amazon: 1492600970
Barnesnoble: 1492600970
Goodreads: 16066586
Publisher: Sourcebooks Fire
Published: 2014-03-01T05:00:00+00:00



18
SUMMER
Tuesday, January 18 (Present)
I couldn't move. My body shook to the point where it ached and felt numb. Nothing felt real anymore. I didn't want anything to be real anymore. The bedsheet was wrapped tightly around me and I clung to it as if it were my lifeline. It smelled of him. I smelled of him. I desperately wanted to get that smell off, but my damned, traitorous body wouldn't move.
A distant voice drifted through the room, and I raised my head. "Lily. Lily, shh, it's okay," Poppy said softly. "It's going to be okay." I opened my mouth to speak but nothing came out, just a low creak in the back of my throat. "Don't worry, it'll be all right." It won't bloody be all right! "You want me to help you to the bathroom?" In my zombie state, I nodded and Poppy helped me up.
Somehow, we made it to the bathroom, but I don't remember getting here. I felt like I was underwater, the floor felt uneven, and everything was swimming. I couldn't believe that had just happened to me. I knew it had, but it didn't feel real.
Standing on the bathroom floor still in my socks, I gripped the sheet tighter around myself and stared at the floor. Why can't I feel anything? I couldn't even cry. I should be crying. Poppy turned the shower on and placed a fresh towel on the side of the sink. "Call if you need me, okay?" she said and walked out, closing the door behind her.
Letting go of a sheet shouldn't be hard but I couldn't do it. As the only thing that was covering me—protecting me—I couldn't let the damn thing go. Taking a deep breath I gave myself a little pep talk, You can do it. Just drop the sheet and get the smell of him off you. Taking a deep breath, I let go and it dropped to the floor.
I stepped in the shower, eager to be free of his aftershave. The hot water ran over my whole body, washing him away with it. Why didn't I fight him? I didn't want it, but I didn't do anything to even attempt to stop it. Would it have been worth my life? Yes. Knowing I had done nothing made me feel sick, dirty, and worthless. If I'd have fought, at least I would have died knowing I didn't ultimately allow it to happen. But it was too late now. I couldn't turn back the clock and change anything. It was now something I would have to live with. I sobbed.
Too scared to do anything about it, I'd let him. My legs turned to jelly. I slumped to the floor and started crying. Grabbing the sponge, I frantically scrubbed my skin until it turned bright red. I felt dirty, and no amount of scrubbing was going to change that.
When my skin was too sore and I winced with every touch, I dropped the sponge, stood up, and turned the shower off.
Download


Copyright Disclaimer:
This site does not store any files on its server. We only index and link to content provided by other sites. Please contact the content providers to delete copyright contents if any and email us, we'll remove relevant links or contents immediately.