The Bad Place (A Sasha Dawson Thriller Book 1) by M.K. Hill
Author:M.K. Hill [Hill, M.K.] , Date: September 8, 2019 ,Views: 254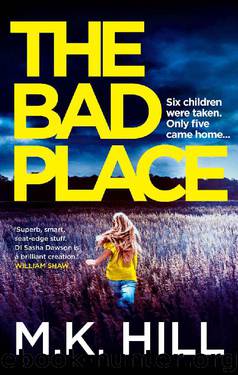 Author:M.K. Hill [Hill, M.K.]
Language: eng
Format: epub
ISBN: 9781788548298
Publisher: Head of Zeus
Published: 2019-09-04T16:00:00+00:00



30
They stood waiting beside one of the food concessions on Marine Parade. The street was filled with tourists enjoying sea and sun after a blow-out lunch, families heading to Adventure Island, or to catch the train to take them along the pier. Sasha sipped on a bitter coffee, waiting for the man called Matt Foster to emerge from the crowd.
'He should be here by now.' Lydia frantically searched the crowd, wiping the sweat off her forehead with the sleeve of her parka. 'He said to meet by this van, but he must have changed his mind, yeah, he don't love me no more.'
'Why don't you take that off?' asked Karin, tugging at the heavy coat, but Lydia jerked her arm away.
'Leave me be!'
Sasha tipped the rest of the coffee away on the sandy pavement and binned the cup, took out her phone to check her messages. She saw a missed call from Ajay and rang him back, and he told her Lucas's parents had been informed of their son's abduction.
'They're terrified, of course they are, Sasha, but…' He hesitated. 'Am I on speakerphone?'
'No.' She kept her voice neutral in front of Karin and Lydia. 'You're okay.'
'The first thing they asked was whether we believed Karin was involved in his abduction. They have some pretty strong opinions about her and demanded she's questioned as a suspect. The Bad Place has been linked too many times in the news with Sammi's disappearance.'
'I see.' Sasha smiled when Karin glanced at her. 'Thanks, DS de Vaz, keep me informed of any other developments, and I'll be back soon.'
She killed the call, but saw the voicemail sent this morning from River Hill School, before Lucas's abduction, and listened to it. It was from a teacher who identified herself as the school's head of pastoral care, whatever that was, asking Sasha to come in tomorrow morning for an urgent meeting. The teacher didn't want to go into detail over the phone, but was clearly calling about Tilly's bullying of Angel. They were on top of the situation, at least, and Sasha hoped it would soon get sorted.
Dropping the phone in her bag, she clapped her hands, ready for business. They'd been waiting nearly twenty minutes now. Sasha considered returning to the station; this Matt character could wait till another time.
But then a group of teenagers sauntered past, laughing at Lydia's crumpled parka, her dirty old trainers and pale, pinched face.
'Look,' one of them called, 'it's Skeletor!'
Lydia reacted angrily. 'Get lost!'
'Piss off, weirdo!' The group began to taunt her.
'Don't you talk to me like that, yeah?' Lydia surged forward. 'I'm better than you!'
'Hey.' Karin tried to pull her back. 'Just ignore them, Matt's going to be here soon.'
But the kids were dancing about, giving Lydia grief, making her more upset. Karin asked them to move along, but they ignored her.
'Calm down, you old witch, or you're going to have a heart attack!'
'You're nasty!' Lydia's face twisted in fury. 'You should be ashamed!'
Deciding to bring this situation to an end, Sasha rooted in her bag for her warrant card.
Download


Copyright Disclaimer:
This site does not store any files on its server. We only index and link to content provided by other sites. Please contact the content providers to delete copyright contents if any and email us, we'll remove relevant links or contents immediately.