Sidney Sheldon (1982) Master Of The Game by Sidney Sheldon
Author:Sidney Sheldon , Date: March 6, 2018 ,Views: 1032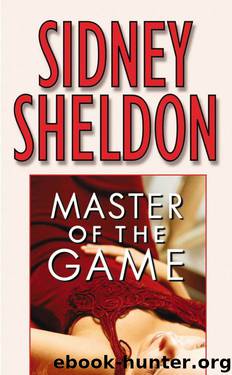 Author:Sidney Sheldon
Language: eng
Format: mobi
Published: 2011-10-25T16:13:05+00:00



BOOK FOUR
Tony 1946-1950
Tony had been to Paris before, but this time the circumstances were different. The City of Light had been dimmed by the German occupation, but had been saved from destruction when it was declared an open city. The people had suffered a great deal, and though the Nazis had looted the Louvre, Tony found Paris relatively untouched. Besides, this time he was going to live there, to be a part of the city, rather than be a tourist. He could have stayed at Kate's penthouse on Avenue du Marechal Foch, which had not been damaged during the occupation. Instead, he rented an unfurnished flat in an old converted house behind Grand Montparnasse. The apartment consisted of a living room with a fireplace, a small bedroom and a tiny kitchen that had no refrigerator. Between the bedroom and the kitchen crouched a bathroom with a claw-footed tub and small stained bidet and a temperamental toilet with a broken seat.
When the landlady started to make apologies, Tony stopped her. "It's perfect."
He spent all day Saturday at the flea market. Monday and Tuesday he toured the secondhand shops along the Left Bank,
and by Wednesday he had the basic furniture he needed. A sofa bed, a scarred table, two overstuffed chairs, an old, ornately carved wardrobe, lamps and a rickety kitchen table and two straight chairs. Mother would be horrified, Tony thought. He could have had his apartment crammed with priceless antiques, but that would have been playing the part of a young American artist in Paris. He intended to live it.
The next step was getting into a good art school. The most prestigious art school in all of France was the Ecole des Beaux-Arts of Paris. Its standards were high, and few Americans were admitted. Tony applied for a place there. They'll never accept me, he thought. But if they do! Somehow, he had to show his mother he had made the right decision. He submitted three of his paintings and waited four weeks to hear whether he had been accepted. At the end of the fourth week, his concierge handed him a letter from the school. He was to report the following Monday.
The Ecole des Beaux-Arts was a large stone building, two stories high, with a dozen classrooms filled with students. Tony reported to the head of the school, Maitre Gessand, a towering, bitter-looking man with no neck and the thinnest lips Tony had ever seen.
"Your paintings are amateurish," he told Tony. "But they show promise. Our committee selected you more for what was not in the paintings than for what was in them. Do you understand?"
"Not exactly, maitre."
"You will, in time. I am assigning you to Maitre Cantal. He will be your teacher for the next five years—if vou last that long."
I'll last that long, Tony promised himself.
Maitre Cantal was a very short man, with a totally bald head which he covered with a purple beret. He had dark-brown eyes, a large, bulbous nose and lips like sausages. He greeted Tony with, "Americans are dilettantes, barbarians.
Download


Copyright Disclaimer:
This site does not store any files on its server. We only index and link to content provided by other sites. Please contact the content providers to delete copyright contents if any and email us, we'll remove relevant links or contents immediately.