Shoot It Again, Sam by Michael Avallone
Author:Michael Avallone [Avallone, Michael] , Date: April 10, 2021 ,Views: 57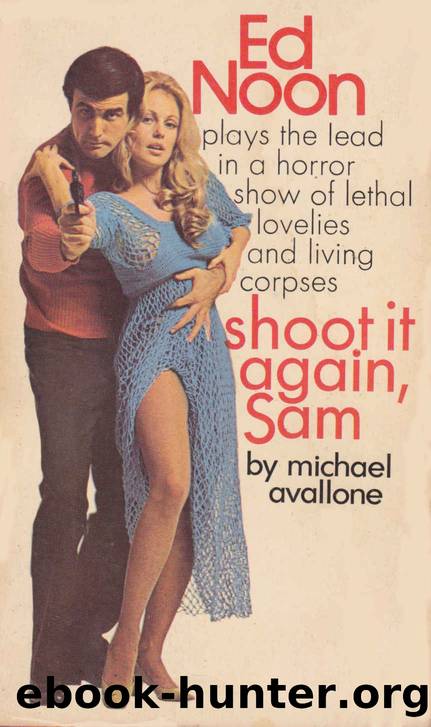 Author:Michael Avallone [Avallone, Michael]
Language: eng
Format: epub
Published: 2014-07-08T22:00:00+00:00



WIFE
□ The Davis House was a fieldstone monster hidden behind groves of eucalyptus trees so tall that they completely dwarfed the surrounding Brentwood homes lying about fifty feet below in the wealthy maze of residences where a lot of movie stars lived and hid from the pitiful public, as well as the sight-seeing buses. High timber obscured a concrete driveway blockaded by a ranch-style fence of arranged brown logs. A quiet gateman stationed in a sentry box of sorts waved me on through. It was a sunny day, the not too distant Pacific visible beneath a sleepy formation of those kinds of clouds the Hollywood crowd likes to insist only show up in sunny Cal.
I eased the Buick into a curvature of the driveway, surprised to see what looked like a seagull, so far inland, winging over the fieldstone house. The bird didn't make a sound, as if it didn't dare.
The setting, the house, and the grounds, spoke volumes of intimidating stacks of greenbacks. Money had spoken here and built anything and everything a famous movie star might desire in the way of creature comforts. A kidney-shaped swimming pool twinkled off to my left. Riding stables lay some fifty yards from the main house. The landscaping, riots of horticulture in the full bloom of summer, dazzled the eye. I hardly looked at the scene.
I was expected. Dan Davis had been dead almost two months now and his widow had consented, on the telephone, to allowing me to come see her. Or hold her hand. Her voice over the wire was sexily pleasant.
Camp David was a week-old memory now.
The Man had let me move out and pick up the trail.
I had put my own house in order before coming to this house. No more would a Panama hat, plum-colored clothes and black-and-white Oxfords demean me. I was back to a sober grey lightweight Brooks Brothers suit, a snappy porkpie fedora and sensible black shoes. I had trimmed the moustache to a pencil line and sheared the shaggy locks. All in all, I was reasonably presentable.
Mrs. Davis answered the door herself.
Either to make me feel more welcome or to see me for herself before allowing me into the house.
She stood on the stone patio before her high front door and scanned me as I walked up the pebbled trail.
"The Hour Of Love," I said by way of hello. "You haven't changed very much, lady."
She glowed, extending her hand. Surprise and pleasure made her face, which had worn very well indeed, light up remarkably. Her figure had held up incredibly. The long, lithe body which had distinguished many an inferior film was still long and lithe in a striped pair of blue bellbottoms. A soft silk blouse with long sleeves, as yellow as sunflowers, caught the sun and held it. Her face, always an oval of lush lips, saucer-big blue eyes and contrastingly tawny skin looked perfectly wonderful for a woman who had to be old enough to be my mother. In the
Download


Copyright Disclaimer:
This site does not store any files on its server. We only index and link to content provided by other sites. Please contact the content providers to delete copyright contents if any and email us, we'll remove relevant links or contents immediately.