Roadwork by Richard Bachman & Stephen King
Author:Richard Bachman & Stephen King [Bachman, Richard & King, Stephen] , Date: July 22, 2021 ,Views: 51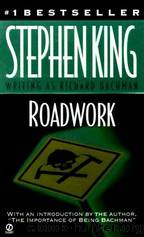 Author:Richard Bachman & Stephen King [Bachman, Richard & King, Stephen]
Language: eng
Format: epub
Tags: Fiction, General, sf_horror, Horror, Suspense, Homeless persons, Violence, Horror tales; American
ISBN: 9780451197870
Publisher: Penguin
Published: 1999-04-28T17:58:57+00:00



December 12, 1973
He made out a Christmas list the night before (drunk) and was now downtown filling an abridged version. The completed list had been staggering-over a hundred and twenty names, including every relative near and distant that he and Mary had between them, a great many friends and acquaintances, and at the bottom-God save the queen-Steve Ordner, his wife, and their for Chrissakes maid.
He had pruned most of the names from the list, chuckling bemusedly over some of them, and now strolled slowly past windows filled with Christmas goodies, all to be given in the name of that long-ago Dutch thief who used to slide down people's chimneys and steal everything they owned. One gloved hand patted a five-hundred dollar roll of ten-dollar bills in his pocket.
He was living on the insurance money, and the first thousand dollars of it had melted away with amazing speed. He estimated that he would be broke by the middle of March at this rate, possibly sooner, but found the thought didn't bother him at all. The thought of where he might be or what he might be doing in March was as incomprehensible as calculus.
He went into a jewelry store and bought a beaten-silver owl pin for Mary. The owl had coldly flashing diamond chips for eyes. It cost one hundred and fifty dollars, plus tax. The saleslady was effusive. She was sure his wife was going to love it. He smiled. There goes three appointments with Dr. Psycho, Freddy. What do you think about that?
Freddy wasn't talking.
He went into a large department store and took an escalator up to the toy department, which was dominated by a huge electric train display-green plastic hills honeycombed with tunnels, plastic (rain stations, overpasses, underpasses, switching points, and a Lionel locomotive that bustled through all of it, puffing ribbons of synthetic smoke from its stack and hauling a long line of freight carsBB1.0, SOO LINE, GREAT NORTHERN, GREAT WESTERN, WARNER BROTHERS WARNER BROTHERS??), DIAMOND INTERNATIONAL, SOUTHERN PACIFIC. Young boys and their fathers were standing by the wooden picket fence that surrounded the display, and he felt a warm surge of love for them that was untainted by envy. He felt he could have gone to them, told them of his love for them, his thankfulness for them and the season. He would also have urged them to be careful.
He wandered down an aisle of dolls, and picked one up for each of his three nieces: Chatty Cathy for Tina, Maisie the Acrobat for Cindy, and a Bafiie for Sylvia, who was eleven now. In the next aisle he got a GI Joe for Bill, and after some deliberation, a chess set for Andy. Andy was twelve, an object of some worry in the family. Old Bea from Baltimore had confided in Mary that she kept finding stiff places on Andy's sheets. Could it be possible? So early? Mary had told Bea that children were getting more precocious every year. Bea said she supposed it was all the milk they drank, and vitamins, but she did wish Andy liked team sports more.
Download


Copyright Disclaimer:
This site does not store any files on its server. We only index and link to content provided by other sites. Please contact the content providers to delete copyright contents if any and email us, we'll remove relevant links or contents immediately.