Red Sparrow Trilogy by Jason Matthews
Author:Jason Matthews , Date: March 4, 2020 ,Views: 213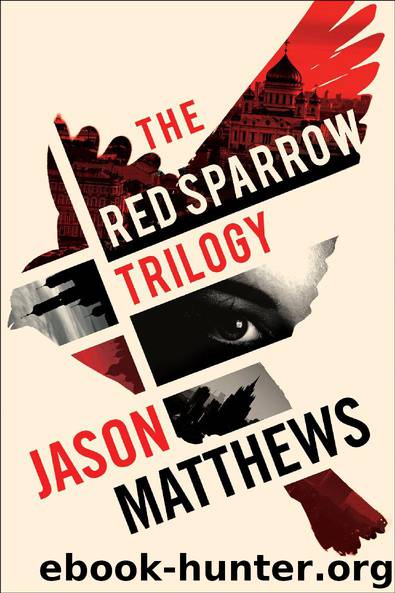 Author:Jason Matthews
Language: eng
Format: epub
Publisher: Scribner



* * *
* * *
Two nights later, Nate was walking with LYRIC along a marble-paved walkway in the modest Glyka Nera neighborhood on the darkened east slope of Mount Hymettus, away from downtown Athens traffic, a world away from where any official Russians would conceivably live or shop. They walked slightly uphill through pools of light cast on the marble by streetlamps with white globes, and passed unexpectedly through an unseen puff of incense coming from the open door of the little Church of the Metamorphosis. They continued in silence, up the deserted path, among the pines, the incense giving way to a fragrant fog of wild oregano.
LYRIC was dressed in a dark suit with a white shirt and black tie, a contrast to Nate's dark slacks and nylon shell. Nate had run an extralong surveillance-detection route that night—DIVA's intel that the Center was now aware of a CIA asset encrypted LYRIC had rocked him. He was determined that he arrive black at the nonsked meeting with the general, and hoped the nonscheduled call out had not spooked the old soldier. Not likely with LYRIC. Nate had waited on a bench among the pines, sighting through the branches, to observe LYRIC's arrival. No pedestrians at this late hour, no loitering cars filled with dark silhouettes and cherry-red cigarette tips. Black. Now business.
As they walked, the general's soft steps did not hesitate for even half a beat when Nate told him that the Center might be aware of a CIA reporting source, a GRU source with access to intelligence on military acquisition of foreign technology. LYRIC cocked his head at Nate while lighting a cigarette. "What exactly do they know?" said LYRIC.
"We will know more in several days' time," said Nate. "Right now we believe the identification lacks details." He knew he sounded pretty lame.
"No specific information on directorate or rank?" said LYRIC. His hands were behind his back, cigarette in his mouth. Out for a stroll.
"No specific information on directorate or rank, no," said Nate, "but the Center is aware that Athens is a possible venue. That could narrow the search and move the investigation dangerously close."
LYRIC waved his hand dismissively. "Kto sluzhit v armii ne smeyetsya v tsirke, he who has served in the army does not laugh at the circus. I am too familiar with the clowns in the counterintelligence staff in GRU. They could not catch a tethered goat." LYRIC rakishly blew smoke up into the night air.
"What about FSB or SVR?" said Nate. "Would they be involved in an investigation?"
LYRIC shrugged.
"SVR perhaps, if they need to investigate overseas," said Lyric. "FSB if in Moscow. But GRU will resist any attempts to steal primacy. Everybody is clamoring for advantage, pecking for morsels; they are like a flock of pigeons." They had reached the top of the walkway and looked up. The ridgeline of Hymettus was silhouetted against the glow of city lights on the other side of the mountain. They turned to walk slowly back downhill—there was no seven-minute time limit for personal meetings now.
Download


Copyright Disclaimer:
This site does not store any files on its server. We only index and link to content provided by other sites. Please contact the content providers to delete copyright contents if any and email us, we'll remove relevant links or contents immediately.