Pieces by Argyle Michelle Davidson
Author:Argyle, Michelle Davidson [Argyle, Michelle Davidson] , Date: April 9, 2021 ,Views: 19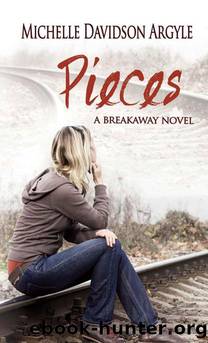 Author:Argyle, Michelle Davidson [Argyle, Michelle Davidson]
Language: eng
Format: epub
Tags: General Fiction
ISBN: 9781936850853
Google: mlbgkgEACAAJ
Amazon: 1936850850
Goodreads: 15783450
Publisher: Rhemalda Publishing
Published: 2013-01-01T07:00:00+00:00



"SO, YOUR parents pay for this house?" Jesse asked as he unpacked his bag in Naomi's room.
"Yeah, they do."
"It's a nice place." He threw a pair of jeans into the drawer. He had told her he had a few days off because of the Thanksgiving holiday, and he planned to spend all of it with her. She wanted it to be longer, no matter how awkward it might be with Becca around.
"Jesse, I—"
He walked to his bag beside her on the bed, and with a sweep of his arm pushed it to the floor. "I'm tired of waiting," he said, embracing her. "You've fed me and played proper hostess long enough."
She giggled and wrapped her arms around him. The glass of wine she'd had with dinner had made her warm already, but now she felt on fire. It was a good feeling. It was more than she had felt in a long time. "What are you saying?" she asked, her words a little slurred.
"I want you. Now." He started undressing her and she didn't stop him. She pulled his shirt over his head, kissing him every moment he came in contact with her. He tasted so good. He smelled of garlic and thyme from dinner. "I love you," he whispered, pressing her onto the bed. She rested her head on the pillows. When she closed her eyes, she remembered her first time with him at the house, how gentle he had been, and how he was still gentle, but forceful too. She didn't know how he managed to combine the two and not mess it up.
Holding her wrists together, he secured her hands above her head. Her knuckles grazed the wall behind her. Jesse smiled and she smiled too ... and then she remembered kissing Finn. Crap. If she didn't tell Jesse about Finn now, she would regret it forever. She wanted to be honest with him. No secrets ever again.
"Jesse," she said with a crack in her voice, "I need to tell you something."
"Yes?" He kissed her neck and then her bare collarbone.
"Um, please don't hate me. Please, please don't hate me, but being here with you like this, I have to tell you in case it's an issue. I think you'll understand." She closed her eyes, keenly aware of how Jesse was pinning her down by holding her hands above her head. In a way, the submissive feeling was comfortable and put her at ease. Jesse was in control. She wanted it that way and he knew it. It was how it had been at the house.
"Go on," he urged, putting his full attention on listening to her.
"There's a guy I met before I found out you were on parole."
"Uh-huh."
She couldn't do this. She couldn't. She loved Jesse. Opening her eyes, she looked at him and knew she would do anything to keep from hurting him. She had to tell him. So, taking a deep breath, she delved into telling him about Finn. He listened, his expression calm and understanding.
Download


Copyright Disclaimer:
This site does not store any files on its server. We only index and link to content provided by other sites. Please contact the content providers to delete copyright contents if any and email us, we'll remove relevant links or contents immediately.