Nan-Core by Mahokaru Numata
Author:Mahokaru Numata [Numata, Mahokura] , Date: December 16, 2017 ,Views: 696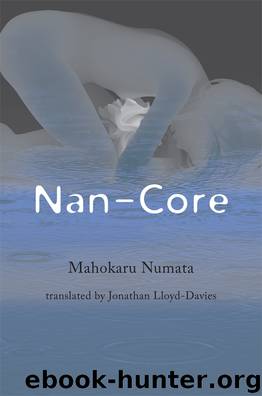 Author:Mahokaru Numata [Numata, Mahokura]
Language: eng
Format: epub
ISBN: 978-1-939130-69-3
Publisher: Vertical Inc.
Published: 2015-04-21T04:00:00+00:00



10
The next day, a Monday, we were fortunate to have bright, pleasant weather. On days like this there was always a tendency for the dog run to get too densely-packed with dogs, so I made an effort to pull myself together and focus on work. But each time I remembered how far off next Sunday was I grew irritable and felt like snapping at the dogs prowling around me.
It was bearable only because Yohei was due to visit Maebashi City Hall the next day to pick up a copy of our old, closed family register. Checking the registers was the only way to answer the questions I had about the baby in the notebooks, the existence of the author's sister, and about whether Dad—unlikely as it seemed—had ever been divorced. It would take too long to order the copies by post and there was a chance they wouldn't arrive by Sunday, when I was planning to continue reading the notebooks. I needed the information before then.
Luckily Yohei liked to do odd things and had jumped at the chance to help. The cost was nothing to sneeze at—transportation, including a bullet-train ticket, meal expenses, plus payment for his labor—but at this point that seemed unavoidable.
With all these thoughts racing through my mind I kept snapping back to reality only to find that I had stopped working, which set me on edge, fearing the sharp-eyed Ms. Hosoya might question me. She approached me before lunch, when the store had quieted down a little, and said there was something she wanted to talk to me about after we'd closed up for the day.
I had a bad feeling. I wondered if she might be planning to quit. It seemed inevitable. Her pay was low, and everyone got her to do work they considered unpleasant or difficult. It wasn't that Nachi, myself, or the rest of the staff were particularly lazy, just that she always managed to take out the garbage or clean the bathrooms before anyone else even noticed, and now everyone took such things for granted.
It had been the same when, half a year earlier, a medium-sized dog had been left, wounded, outside the cafe. The animal had likely been hit by a car. It was lying in a cardboard box, still breathing, even though its head was cracked open and one of its front legs was mangled from the shoulder down. I panicked and a part-time girl had to crouch down to keep herself from fainting. It was Nachi's day off, and I doubt he would have been much use even if he'd been there. Ms. Hosoya, on the other hand, had picked up the blood-soaked box, put it in the cafe's van, and driven away. I could have stopped her and done it myself but just looked on helplessly, standing rooted to the spot. I apologized when she got back, but she just smiled her usual smile, and washing her hands told me it was no problem. I never asked how she'd dealt with it.
Download


Copyright Disclaimer:
This site does not store any files on its server. We only index and link to content provided by other sites. Please contact the content providers to delete copyright contents if any and email us, we'll remove relevant links or contents immediately.