My Double Life by Rallison Janette
Author:Rallison, Janette , Date: March 25, 2014 ,Views: 364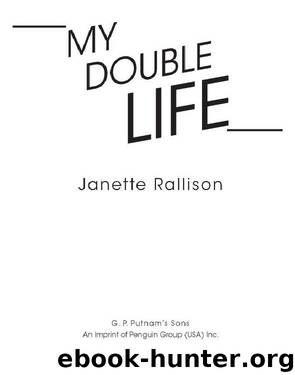 Author:Rallison, Janette
Language: eng
Format: epub, mobi
Publisher: PENGUIN group
Published: 2010-03-09T16:00:00+00:00



We flew out to San Antonio the next day, barely speaking to each other. I didn't tell her about the pictures the paparazzi had taken or the things I'd talked about with Grant. I didn't want to give her any other reasons to yell at me because if she did, I'd probably quit on the spot. And I didn't want to quit.
I had six weeks left until I met my father. And I admit I got a thrill from all the attention I received as a celebrity. But I also wanted to do this for Kari. The memory of her falling apart, sliding to the floor when she learned Lorna planned on exposing her gambling debt—I'd never seen anyone so upset before. She was my sister, and I wanted to fix it for her. If her debts were paid, there wouldn't be anything scandalous to write about.
When I got situated in the hotel in San Antonio, I texted Kari a long message telling her I was worried about her. I put in links to gambling support groups. I half expected her to get angry at me for suggesting it, but she wrote back, "Don't stress about it. I'm fine. It's just money."
It's just money. What would it be like to have that attitude? Money was never "just money" to me. It was time, effort, opportunity, acceptance, and power. It was not printed with George Washington's and Abraham Lincoln's faces, but with my mother's face, bent over the kitchen table paying bills.
Kari and I kept texting back and forth. Maren had already told her I'd gone to the hospital, and she wrote, "Thanks for doing that. Now those hospital people will stop thinking I'm totally heartless."
Which made me even madder at Maren for getting in my face and yelling about it. Kari had been happy I'd done it.
I left out the part about the paparazzi and duet request, but texted her that Grant was finding out more about Lorna's book, which made her so happy she called to get the details.
"Let me know as soon as you hear from him," she said. "My lawyer says the more information we have about what's in that book, the easier it will be to stop it before it goes to press."
"I'll keep you updated," I said.
She let out a sympathetic sigh. "I'm sorry you have to deal with Grant. I know what a pain he is."
Without trying, I could conjure up Grant's square jaw and flawless features . . . the rich sound of his laugh. "He's not really such a jerk."
There was a pause, then she said, "Oooh," making the word sound like it had traversed a hill. "Well, it still would never work out between us, so you can't encourage him."
"I know. I told him Michael and I were just taking a break."
"Right," she said. "And I'm hoping our break will be over soon. Michael sent me three hundred roses yesterday. Isn't that so romantic? He's coming over soon."
"Congratulations," I said. I couldn't manage to muster much enthusiasm, though.
Download


Copyright Disclaimer:
This site does not store any files on its server. We only index and link to content provided by other sites. Please contact the content providers to delete copyright contents if any and email us, we'll remove relevant links or contents immediately.