Mummy Knew by Lisa James
Author:Lisa James [James, Lisa] , Date: August 17, 2017 ,Views: 2987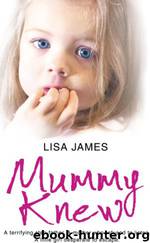 Author:Lisa James [James, Lisa]
Language: eng
Format: epub, mobi
Tags: Non-Fiction, Biography, Psychology, Nonfiction
ISBN: 0007325169
Amazon: B002RI9SM4
Goodreads: 6919484
Publisher: Harper Element
Published: 2009-09-03T05:00:00+00:00



Chapter Twelve
Mum had abandoned me to Dad, and since my abuse had got worse, she was having a much easier time of it. He was just as erratic and prone to fits of temper, smashing things and screaming the house down, but ever since he had knocked her teeth out he had remained true to his word and hadn't hit her again. Instead, I became the focus of his violent rages; except with me, he had to be very careful not to mark my face.
At this stage I was still going to school at least half the time, and if he had given me a traditional black eye or any visible injury, he must have known that the authorities would start taking a very close interest. Dad was many things but he wasn't stupid enough to bring down the whole house of cards when he could hurt me equally as much in places where the injuries stood little chance of being spotted. He found a plastic fly swot and took to smacking my bare bottom and back with it until I had red, raised welts all over the skin. There were many times when I literally found it hard to sit down, my bottom was so painful. He also used to bite me all over so that I was left with black and purple bruises in the shape of his teeth.
I knew Dad was looking forward to the day when I left school for good and there was little danger of outside agencies becoming involved in what he considered to be private family business. Then he would be able to relax, the master of his domain.
School was my only sanctuary, and I was heartsick on the days Dad wouldn't let me go. I loved to learn. English and drama were my favourite subjects. I used to enjoy reading aloud to the class and my teacher, Miss Connelly, often said I should be an actress. At lunchtimes I sometimes went to the school library and looked for books with scripts in. I read them to myself, doing all the voices, and dreamed of performing on stage one day. I found a book all about the National Youth Theatre but didn't dare dream I could ever attend one of their summer workshops. Drama was the only lesson where I could truly forget my problems at home. I hated myself for allowing bad things to happen to me. I was tainted, and it was a relief to pretend to be someone or something else for half an hour, even it it was only a tree swaying in the wind!
The drama studio in our school was painted red and had big floodlights hanging from the ceiling. When we were allowed to use them, the small space would heat up and the air would become acrid as months of dust burnt off. Everyone would cough and splutter, but to me the smell was pure theatre: greasepaint and alter egos.
Once the music and drama departments came together to stage a production of The Boy Friend, a musical set in the French Riviera in the 1920s.
Download


Copyright Disclaimer:
This site does not store any files on its server. We only index and link to content provided by other sites. Please contact the content providers to delete copyright contents if any and email us, we'll remove relevant links or contents immediately.