Mercy by Michelle Larkin
Author:Michelle Larkin [Larkin, Michelle] , Date: June 23, 2018 ,Views: 881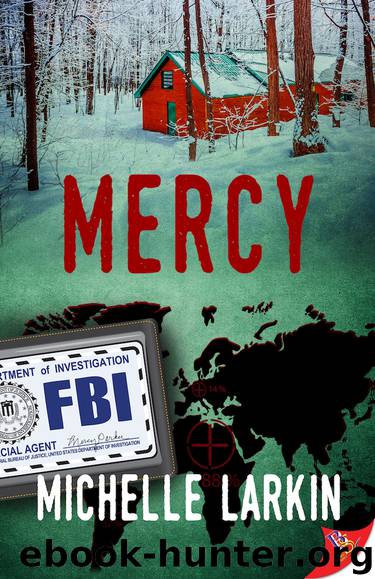 Author:Michelle Larkin [Larkin, Michelle]
Language: eng
Format: epub
ISBN: 9781635552010
Publisher: Bold Strokes Books
Published: 2018-03-18T04:00:00+00:00



Chapter Nineteen
Shadow turned onto the dirt road. Pebbles pinged off the van's metal undercarriage. A dust cloud drifted up and seeped into his open window, as if welcoming him back home.
He rounded the last bend in the road, and his warehouse finally came into view. Dozens of grimy windows lined the first floor. Most were either cracked or broken. The warehouse had been painted dark brown at one time. A few brown patches lingered here and there, but most had been rubbed away by the sun. Part of the roof was caved in, and chunks of wood were gouged from one corner. He likened himself to this warehouse. The wear and tear and broken outer shell created a new identity within, thereby unveiling its true purpose and beauty.
"We're here, little warrior!" He parked, cut the engine, and climbed out. Throwing open the van's rear doors in a flamboyant gesture, he stood off to one side. "Come, it's time to show you your new home."
She obediently scooted over, holding the plastic bag with all the remaining food and water in her lap. He smiled, knowing that she wouldn't be alive long enough to require further sustenance.
Rocks poked up at her bare feet as he led her and the dog to the side of the building. Shadow knew the dirt and rocks must be uncomfortably warm under the scorching Arizona sun. Her bare, tender feet were no doubt feeling it right now. He took pleasure in her pain, taking his time and making her stand on the hot earth for long minutes. To her credit, she didn't complain. She simply kept shifting her weight from one foot to the other.
Her amusing little dance lifted his spirits even more. It was important to take time to appreciate the little things in life.
Buoyed by her pain and the reunion with his beloved warehouse, he began whistling the tune to "Bingo." He took a deep breath and, with much anticipation, finally rolled the rusty metal door aside. Filthy, scarred walls and rotted-out wooden beams stretched as far as the eye could see. A fat black scorpion scurried across the threshold.
Home sweet home. His perfect space. His canvas. The stark beauty of this place was intoxicating. And all of it was his.
Suddenly impatient to get his plans under way, he motioned for the dog and the little warrior to step inside.
Download


Copyright Disclaimer:
This site does not store any files on its server. We only index and link to content provided by other sites. Please contact the content providers to delete copyright contents if any and email us, we'll remove relevant links or contents immediately.