Master of the Game by Sidney Sheldon
Author:Sidney Sheldon [Sidney Sheldon ] , Date: March 27, 2014 ,Views: 1618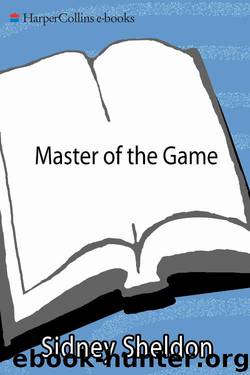 Author:Sidney Sheldon [Sidney Sheldon ]
Language: eng
Format: epub, mobi
ISBN: 9780062015587
Publisher: HarperCollins



When Tony was not in class, he was usually in his apartment sketching. He could have painted from dawn to dawn. Painting gave him a sense of freedom he had never known before. The simple act of sitting in front of an easel with a paintbrush in his hand made him feel godlike. He could create whole worlds with one hand. He could make a tree, a flower, a human, a universe. It was a heady experience. He had been born for this. When he was not painting, he was out on the streets of Paris exploring the fabulous city. Now it was his city, the place where his art was being born. There were two Parises, divided by the Seine into the Left Bank and the Right Bank, and they were worlds apart. The Right Bank was for the wealthy, the established. The Left Bank belonged to the students, the artists, the struggling. It was Montparnasse and the Boulevard Raspail and Saint-Germain-des-Prés. It was the Café Flore and Henry Miller and Elliot Paul. For Tony, it was home. He would sit for hours at the Boule Blanche or La Coupole with fellow students, discussing their arcane world.
"I understand the art director of the Guggenheim Museum is in Paris, buying up everything in sight."
"Tell him to wait for me!"
They all read the same magazines and shared them because they were expensive: Studio and Cahiers d'Art, Formes et Cou-leurs and Gazette des Beaux-Arts.
Tony had learned French at Le Rosey, and he found it easy to make friends with the other students in his class, for they all shared a common passion. They had no idea who Tony's family was, and they accepted him as one of them. Poor and struggling artists gathered at Café Flore and Les Deux Magots on Boulevard Saint-Germain, and ate at Le Pot d'Etian on the Rue des Canettes or at the Rue de l'Université. None of the others had ever seen the inside of Lasserre or Maxim's.
In 1946, giants were practicing their art in Paris. From time to time, Tony caught glimpses of Pablo Picasso, and one day Tony and a friend saw Marc Chagall, a large, flamboyant man in his fifties, with a wild mop of hair just beginning to turn gray. Chagall was seated at a table across the café, in earnest conversation with a group of people.
"We're lucky to see him," Tony's friend whispered. "He comes to Paris very seldom. His home is at Vence, near the Mediterranean coast."
There was Max Ernst sipping an aperitif at a sidewalk café, and the great Alberto Giacometti walking down the Rue de Ri-voli, looking like one of his own sculptures, tall and thin and gnarled. Tony was surprised to note he was clubfooted. Tony met Hans Belmer, who was making a name for himself with erotic paintings of young girls turning into dismembered dolls. But perhaps Tony's most exciting moment came when he was introduced to Braque. The artist was cordial, but Tony was tongue-tied.
The future geniuses haunted the new art galleries, studying their competition.
Download


Copyright Disclaimer:
This site does not store any files on its server. We only index and link to content provided by other sites. Please contact the content providers to delete copyright contents if any and email us, we'll remove relevant links or contents immediately.