Left To Tell by Immaculee Ilibagiza
Author:Immaculee Ilibagiza , Date: March 25, 2014 ,Views: 485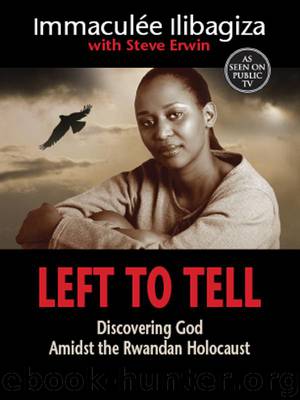 Author:Immaculee Ilibagiza
Language: eng
Format: mobi, epub
ISBN: 9781401908966
Publisher: Hay House, Inc.
Published: 2010-03-11T10:00:00+00:00



AS THE WAR DRAGGED ON, THE PASTOR BECAME INCREASINGLY worried about what he was going to do with us. "If the fighting lasts many months more, I'll run out of food to feed you. It will be impossible for me to keep you," he fretted.
I remembered the gun that had been slung over his shoulder and wondered what he planned to do when the food ran out. I couldn't allow myself to believe that he'd turn into a killer—not after risking his life to save us. But I certainly knew that he was capable of kicking us out of the house in the middle of the night, just as he'd done to Augustine and Vianney. I also knew that the countryside was crawling with killers and that we wouldn't last an hour outside of the bathroom.
The pastor must have thought a lot about it, and finally he decided that he needed God's help. One night he asked us to pray with him that God would help the government soldiers win the war. We just looked at him . . . didn't he realize what he was asking us to do? I couldn't believe how insensitive he'd become to our suffering.
Nevertheless, we were in a tight spot—what else could we do? We all put our hands together and pretended to pray with him. What I actually prayed for were the souls of the thousands and thousands of Tutsis who had already been murdered. Then I prayed for the killers to come into God's powerful light and be changed by His love: Touch them with Your Divine love, God. Only then will they drop their machetes and fall to their knees. Please, God move them to stop their slaughter. Forgive them.
I also prayed that the pastor would not grow too callous toward us, that his heart would not harden at the sight of us, and that he would remember that we were human beings.
As soon as we'd finished praying with him, Pastor Murinzi shocked us by revealing what he intended to do with us after the war: "There will be no Tutsis left in Rwanda once the killing is over, so I'll have to smuggle you out of here without anyone seeing. And you'll have to go someplace where no one knows you, where no one can find out that I was the one who hid you during the war."
It turns out that he planned to send us to live on a remote island 50 miles away in the middle of Lake Kivu to become wives of Abashi tribesmen!
We looked at each other in disbelief. The Abashi were a primitive tribe who lived deep in the forest and had virtually no contact with the outside world. They had no schools, churches, or even jobs; they wore no clothes except loincloths; and they ate only what they could forage or hunt in the forest. Rwandan parents scared unruly children into behaving by threatening to send them to live with the Abashi—it was like being sent to live with the bogeyman.
Download


Copyright Disclaimer:
This site does not store any files on its server. We only index and link to content provided by other sites. Please contact the content providers to delete copyright contents if any and email us, we'll remove relevant links or contents immediately.