Lady Tigers in the Concrete Jungle by Dibs Baer
Author:Dibs Baer , Date: March 2, 2020 ,Views: 422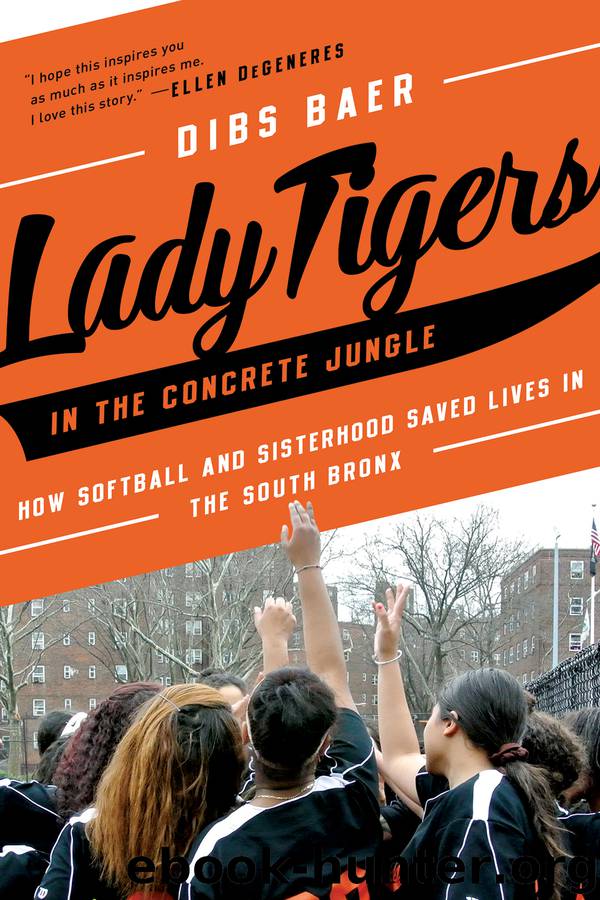 Author:Dibs Baer
Language: eng
Format: epub
Tags: Epub3
Publisher: Pegasus Books



Chapter Eleven
A NEW BEGINNING
All of the girls turned in their Lady Tiger uniforms before the Christmas break.
In the South Bronx, the holidays weren't always so holly and jolly. Being home for two weeks straight could be much worse than being at school for a lot of them. There was no escape from the fighting, drunkenness, and physical and verbal abuse, and nowhere to go, especially if it was cold. They were trapped in it.
They also didn't necessarily get lavished with gifts. Yoshie's big presents were a pair of socks and sweatpants. Angie didn't get anything at all, because a babysitter stole all of the cash her mom had hidden in the house. "We didn't really have a Christmas," she says. Rashell was pleasantly surprised that her mom, who was originally opposed to her being on the Lady Tigers fearing she'd break her ankle, got her a $40 used glove and cleats. Even more shocking, Nicky and Gheynee's mom, who often took softball away from them as a punishment, bought them gloves, too. They truly missed softball and played catch outside together, even though it was freezing. "We liked having something to take us away from the house," Gheynee says. "It distracted us."
Chris was having a rough Christmas himself. He was exhausted and burnt out, and the tension was thick in his house, too. He was supposed to work things out with Charisse, but he felt she was gloating about the team disbanding, and it pained him. He struggled with his decision. He'd never been a quitter, and not only had he given up on the Lady Tigers, he had freaked out and thrown a chair. He didn't like or welcome the return of Angry Chris. He felt out of control, like the Incredible Hulk. Plus, he and Charisse were having money problems. Every year, they liked to go all out on Christmas, no matter their financial situation—big tree, lights, decorations, stockings, all of it. They always had presents under the tree, no matter how low their bank account balance. This year they were flat broke and it was partly his fault for spending so much money on the team. They barely had enough money for rent. It was unacceptable to Chris to not have presents at all, but especially not this year, not after his focus had been on his softball family more than his real family. He hadn't exactly been "Dad of the Year." So Chris dipped into his 401(k) and took out a loan from his credit union in order to buy Justin his favorite video games and Cristina a playhouse.
Grateshka was one of the lucky ones who had a fun-filled Christmas with lots of family in from out of state and yummy holiday food, like her favorite fried chicken and Pernil, the classic Puerto Rican pork dish served with arroz con grandules. For some of the others, having a lot of family around triggered drama between parents, siblings, and extended family.
In Kimberly's case, the "most wonderful time of year" gave her anxiety and filled her with self-loathing.
Download


Copyright Disclaimer:
This site does not store any files on its server. We only index and link to content provided by other sites. Please contact the content providers to delete copyright contents if any and email us, we'll remove relevant links or contents immediately.