Killer Instinct (Instinct Series) by James Patterson
Author:James Patterson [Patterson, James] , Date: September 10, 2019 ,Views: 898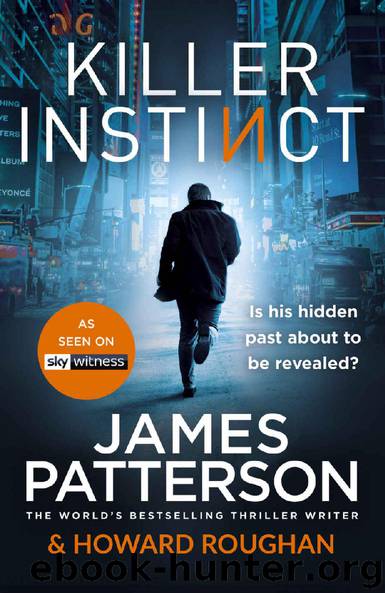 Author:James Patterson [Patterson, James]
Language: eng
Format: epub
ISBN: 9781473563025
Publisher: Random House
Published: 2019-09-08T18:30:00+00:00



CHAPTER 58
IT WAS barely there—a smidge, a notch, a sliver above a dog whistle. But I could hear it.
That metallic hum, the sound of the automatic lock on the door having been engaged only seconds before. He'd been inside the apartment. He'd just left.
No, wait. He's coming back.
I knew it even before I turned my head. I didn't need to see it. I could feel it. Instinct. Killer instinct.
Once he'd passed the corner leading to the elevator bank, he'd turned around to look. I saw his head peek out as he spotted us in front of my door. He was ten yards off with nothing in his way. He had a clean shot.
But only if I let him take it.
There was no time to even yell Gun! as I reached for mine while all but slamming my father to the ground. I fired once, rolled, then twice—neither with any aim. Just direction. Enough to force this guy back around the corner, if only for a few seconds.
"Silver one," I said, tossing my key chain to my father. He was now closest to the door. The two other keys, copper colored, were for a storage unit and my office at Yale.
Having a former CIA operative for a dad has its drawbacks, but it sure comes in handy when taking fire. He knew what to do. More importantly, he knew what not to do. As in, try to open the door to my apartment at the wrong time.
We were crouched on the tight pile carpet, spread on either side of the hall with our guns drawn, waiting for the next rounds to come our way. It wasn't a matter of if, only when. C'mon, bring it …
We kept staring at the corner, waiting for movement. Amateurs always go for speed, trying to outdraw you. This guy wasn't an amateur.
The first thing we saw was subtle, a hint of blue from the brim of his Mets cap. It was sticking out no more than an inch, about six feet off the ground. He was decoying us. I could practically picture him holding the cap above his head, trying to draw our eyes.
Instead I gave a quick glance to my father, who nodded back. Enough said. My father was no amateur either.
The Mets cap—and only the cap—suddenly came flying out from behind the corner like a clay pigeon, but my eyes stayed focused below it. Sure enough, his hand came whipping around the edge, the barrel of his semiautomatic leading the way only a few feet up from the floor. Nice try, asshole …
We traded shots. My father and I were pinned down, but the guy had no time to square either of us up. He was quick, though. Good reflexes. No sooner did he lunge forward than he immediately pulled back, although not before I nicked him. A small burst of blood splattered against the wall, probably from the meat of his forearm.
Now!
My father sprang to his feet with the key, finding the cylinder on the first try.
Download


Copyright Disclaimer:
This site does not store any files on its server. We only index and link to content provided by other sites. Please contact the content providers to delete copyright contents if any and email us, we'll remove relevant links or contents immediately.