Kill the Rat by Dan Ames
Author:Dan Ames [Ames, Dan] , Date: November 20, 2019 ,Views: 154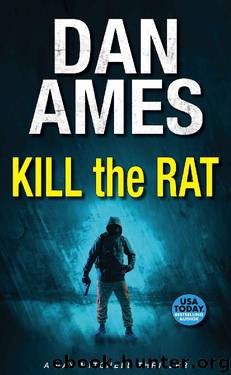 Author:Dan Ames [Ames, Dan]
Language: eng
Format: epub
Publisher: Slogan Books, New York, NY
Published: 2019-09-22T16:00:00+00:00



Chapter 27
"He's dead and I'm still not happy!" Vincenzo Romano's voice thundered through the great room of his mansion.
"Easy, Vincent," said Gloria. "You're not supposed to get so upset after…" She stopped short, but it was too late.
"After what?'
"Nothing."
Romano poured a glass of sherry from the bottle on the mantle. He was breathing heavily, the air leaving his nose in cottony gushes. He filled the glass, put the bottle back on the shelf, leaned his head back and took a long drink. He looked around the room, attempting to find solace, but seeing none. Gloria was sitting in one of the living room's easy chairs. She was wearing black slacks and a white sweater that clung to her sculpted body. Her head was cocked to one side and she seemed to be observing him with feigned interest.
Romano paced around the great room. It was big, nearly four hundred square feet. More so than his study, the great room was his room. A big space for big ideas. It was here that he hatched the thrillingly devious plan to whack a young, eager DA by having his guys dress up like hunters and follow the attorney into the woods on opening day of deer season. The .30-06 had blown a hole in the Yale grad big enough to hold the 400-page deposition he was planning against Romano.
A deposition that never got filed after the "accident."
Romano stood before the seven-foot fireplace, a roaring fire throwing flickering orange light on his thick face.
He glanced up at the room's thick ceiling beams, the elaborate crown molding. Through the living room's floor-to-ceiling picture windows, Lake Michigan could be seen. The water was rough today, he could see the whitecaps, could almost hear the pounding of waves on the beach a mere hundred yards away.
He shook his head. It just wasn't turning out to be a good week.
"You're not supposed to drink so much," Gloria said. Romano turned, ready to bite her head off, but she was there, with the sherry and refilled his glass. "But the circumstances seem to call for it, no?"
Romano sighed heavily. Gloria produced a glass for herself and filled it to the halfway point. She returned the bottle to the shelf and came back to Romano's side. They stood side by side in front of the window. Though the glass was bulletproof and three inches thick, the quality of the view was excellent, breathtaking at dawn and sunset.
Before them, on the lake, a freight ship slowly made its way across the vista. Vincent watched the outline of the ship, sketched in by its bow and stern lights. He felt a small satisfaction registering with him. He got a small cut on all Milwaukee harbor traffic, and there was a lot of it. Every ship that went by was a little bit of money in his pocket. It made the view a little bit prettier for him, a factor he'd taken into consideration when he bought the mansion several years ago.
Romano took a small sip of sherry.
Download


Copyright Disclaimer:
This site does not store any files on its server. We only index and link to content provided by other sites. Please contact the content providers to delete copyright contents if any and email us, we'll remove relevant links or contents immediately.