If the Fates Allow by Rainbow Rowell
Author:Rainbow Rowell [Rowell, Rainbow] , Date: November 25, 2021 ,Views: 76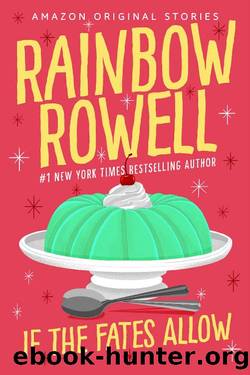 Author:Rainbow Rowell [Rowell, Rainbow]
Language: eng
Format: epub
Publisher: Amazon Original Stories
Published: 2021-11-18T05:00:00+00:00



Christmas 2021
The house was full of Reagan's relatives.
It still felt surreal to Reagan, to be this close to people. It still felt unsafe.
But her grandfather had decided it was probably as safe as it was going to get. Half the family was vaccinated, he argued, and the other half had already had Covid—a few of them had had both. "I'm tired of waiting for it to get better, honey. It feels like we should all get together before it gets worse."
Grandpa had just gotten his booster shot, and he was feeling invincible.
Reagan couldn't imagine that feeling.
She'd spent too much of the last two years feeling paranoid and vulnerable. She'd gotten through Thanksgiving at her mom's house by sitting next to an open window. And she got through most other social situations by avoiding them. She was still working remotely, by choice. And she still used the drive-up lane for groceries.
She'd tried going out with her friends a few times, this summer, when the future had felt brighter—but even then, it was hard not to look around a crowded bar and wonder how everyone there had spent the last year. Had they been the ones making it all worse?
Her friends said she was bitter. Levi said she had PTSD.
"I'm not so sure about that P," Reagan told him. (Easy for Levi to shrug it all off. He was surrounded by fresh air and bison.)
Her family wouldn't even talk to her about Covid anymore. Reagan's sister Caitlin had been down for about two months this spring, and she was still having trouble climbing stairs—but she'd told Reagan to stop checking in with her. "I can feel you judging me."
Reagan didn't know how to tell her sister that she only sort of judged her. That she wished Caitlin had been more careful, but that she also didn't believe that being careful was enough. And more than all that, she was just worried about her. She was constantly worried about all of them.
Reagan's mother had called the week before Christmas to make sure Reagan was coming home. "You worry too much," her mom said. "The CDC says the risk for vaccinated people—"
Reagan had cut her off. "Oh, the CDC . . ."
"Sometimes I think you don't want to get back to normal, Reagan. Sometimes I think you like it better this way."
Sometimes Reagan agreed with her.
But Reagan had made the drive out to Arnold, anyway. She'd even come a day early to carry the folding chairs up from Grandpa's basement and to wash all the not-quite-china. And here she was, sitting at a table crowded with family—and even more crowded with food. (She'd claimed a chair at the grown-ups' table without consulting anyone. Her thirty-eight-year-old brother was at one of the kids' tables, and Reagan didn't feel a tiny bit bad about it.)
She was sitting between her mom and her aunt, facing the window that looked out on the house next door. Reagan had spent the last twenty-four hours not looking in that direction, but now she was stuck.
Download


Copyright Disclaimer:
This site does not store any files on its server. We only index and link to content provided by other sites. Please contact the content providers to delete copyright contents if any and email us, we'll remove relevant links or contents immediately.