Global Powers of Horror by Debrix Francois;
Author:Debrix, Francois; , Date: January 15, 2022 ,Views: 148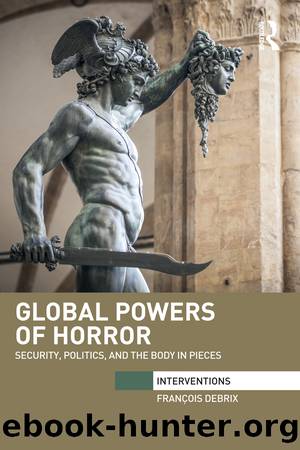 Author:Debrix, Francois;
Language: eng
Format: epub
Publisher: Taylor and Francis



Representing the unrepresentable
In a brief reflection on what appears credible and what does not in narrative and cinematographic accounts of the concentration camps, Rancière seeks to address a seemingly simple question: are some things unrepresentable—particularly, in a visual sense?47 In this short text, Rancière takes issue with, among other concepts, Jean-François Lyotard's notion of the sublime.48 Rancière suggests that Lyotard's understanding of the sublime reintroduces the idea that certain forms of art, or certain modalities of vision, cannot achieve representation. Instead, these artistic/visual forms evoke its impossibility, and they gesture towards something incommensurable. Rancière initially appears to adopt this binary understanding of representation versus unrepresentation by indicating that "two regimes of art" are at play.49 One, the representational mode, remains subject to the ideas of speech, language, signification, and narrative continuity: art or visual forms that represent succumb to the "adjustment of the visibility of speech," Rancière writes.50 Put differently, speech is rendered visible and (ever) present by some forms of art/visual aesthetics. Meaning/signification as what humans—and humans only—do is boosted by this modality of artistic/visual representation. In this manner, to represent is to put human thought into language, and art/visual aesthetics remain wedded to this logocentric postulate.
But another regime of art/aesthetics—visual aesthetics, particularly—appears to be based upon the impossibility of logocentric affirmation or reassurance. In this way, the unrepresentable (perhaps what is "sublime" in art, according to Lyotard) is art or the visible freed from speech. As Rancière puts it, art/the visual is "no longer subject to the identification of the process of signification with the construction of a story."51 The unrepresentable in art/vision thus severs the ties to language/narrativity. By no longer readily making sense or signifying, this form of art/vision appears to reverse the logical order since speech and language now become subject to the whims of the artistic or the visible. Horror, as I have theorized it above, seems to be akin to this modality of art/vision as unrepresentable, since, as both Cavarero and Asad have intimated, horror renders one speechless and shatters regimes of signification/meaning.
Rancière is somewhat sympathetic to this binary opposition between representation and unrepresentation, meaning and non-sense, and logocentrism and horror. And yet he is also not totally satisfied with it either. Turning to some of the introductory scenes of Claude Lanzmann's film Shoah, scenes of the holocaust that seem too shocking, too inhuman for some to believe or face, Rancière refutes the alleged unrepresentability of these images. Note that Rancière does not deny the horror these scenes reveal. Rather, Rancière argues that the "elimination of the Jews and the elimination of the traces of their elimination" are "perfectly representable."52 But they are representable according to a non-linguistic, non-speech-dominated, non-narrative, and non-logocentric logic of exhibition or action. For Rancière, they are representable as what he calls "the form of a specific dramatic action."53 This "specific dramatic action" is the form of representation—or, perhaps, of revelation, as I called it above—taken by that which is no longer contained in language or subjected to speech. It is not simply an excess or surplus of speech or language, however, but something else altogether.
Download


Copyright Disclaimer:
This site does not store any files on its server. We only index and link to content provided by other sites. Please contact the content providers to delete copyright contents if any and email us, we'll remove relevant links or contents immediately.