Girl in the Blue Coat by Monica Hesse
Author:Monica Hesse , Date: May 2, 2016 ,Views: 1306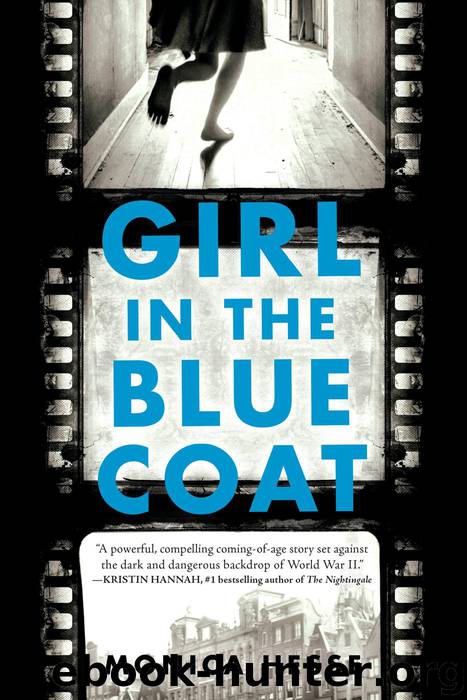 Author:Monica Hesse
Language: eng
Format: mobi, epub
Tags: Juvenile Fiction / Historical / Holocaust, Juvenile Fiction / Thrillers & Suspense, Juvenile Fiction / Social Issues / Death & Dying, Juvenile Fiction / Social Issues / Friendship, Juvenile Fiction / Historical / Europe, Juvenile Fiction / Mysteries & Detective Stories, Juvenile Fiction / Social Issues / Prejudice & Racism
Publisher: Little, Brown Books for Young Readers
Published: 2016-04-05T07:00:00+00:00



SIXTEEN
Saturday
When I wake up the next morning, my jaw aches like I spent the night clenching it, grinding my teeth together. I know I dreamed of Judith and Mirjam Roodveldt. "Why weren't you a better friend?" Judith asked me, but when I tried to answer her, she was really Elsbeth. "Why don't you come and find me?" Mirjam asked, but when I told her I was looking for her, she was really Bas. I woke up again and again in the night, never sure of where I was, or when it was, or who was alive and who was dead.
When I stumble out of my bedroom, still in my nightclothes, a whacking sound alerts me that Mama is on a cleaning tear. It happens a few times a year. This morning, Mama stands on our balcony, beating the rug with a broom. Papa sits at the table with a rag, polishing all of our silver, which lies in neat piles around him. "She's denying me food until I finish," he whispers. "Me—an invalid. I need to go into hiding."
I try not to let my face register as I pick up a rag and sit beside him. Hiding. Judith. My father is smiling, and the air is filled with the tangy smell of silver, and Judith and Mina have been folded into the Amsterdam underground. Gone.
Papa waits for me to respond. I try to remember what I would usually say to him, but our normal banter doesn't come easily to me. "Cruel woman," I manage finally, rubbing one of the candlesticks. "Mistreating you that way."
It's nine o'clock in the morning. Later than I'm usually allowed to sleep on Saturdays. Still more than three hours to waste before I have to leave for my appointment with Dr. Zimmer. And who knows how many hours to waste before I can find out whether Judith made it to her hiding spot. It's going to be a long, horrible morning.
I've finished only two candlesticks when Mama lugs the rug back inside and sees what I'm doing. "Good, Hannie, you're awake. I have another job for you."
I pause, the rag in my hand. "I don't have to clean?"
"Your closet," Mama says. "So many papers, you can't still need them all. Sort through them to figure out which can be used for kindling."
It's an odd relief to be in my bedroom, sorting papers, while my parents do chores in the next room. It's familiar and mundane, and requires just enough concentration to distract me from what happened last night. After a few minutes, Mama knocks on the door, bringing bread and jam. "See? I'm not such a cruel woman." She pretends to be stern, but her eyes aren't angry.
Mama kneels next to me and picks up the item I've just set aside, a birthday card from when I turned sixteen. "Do you remember this birthday? We all went ice-skating. Elsbeth wore that short skating skirt, and Bas challenged me to a race because he thought it would be funny, him against your forty-year-old mama—"
"But then you beat him.
Download


Copyright Disclaimer:
This site does not store any files on its server. We only index and link to content provided by other sites. Please contact the content providers to delete copyright contents if any and email us, we'll remove relevant links or contents immediately.