Foxton Girls: A British Boarding School Crime Thriller (Annie O'Malley Crime Thriller Series Book 2) by K.T. Galloway
Author:K.T. Galloway [Galloway, K.T.] , Date: October 14, 2021 ,Views: 58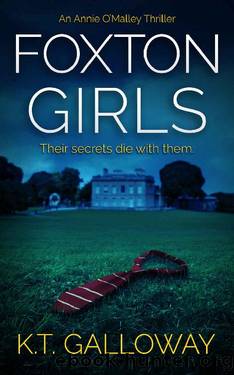 Author:K.T. Galloway [Galloway, K.T.]
Language: eng
Format: epub
Publisher: A.W.E Publishing
Published: 2021-09-30T23:00:00+00:00



Fourteen
In the light of day, the woods were beautiful. Branches twisted around each other like lovers' fingers. Underfoot was soft with the coils of bracken and the mulch from the summer glut dampened by the impending autumn. They found the entrance to the path easier this time, too, and headed off into the trees to try and find the elusive Lily.
"Do you think Lily is coping okay?" Swift asked, holding back a branch so it didn't swing off him and smack Annie in the face. "Given what Florence just said?"
Annie took the branch and let it go gently once she'd passed.
"Finding your best friend hanging dead by her neck is not something an adult would be able to deal with, let alone a teenager whose own coping mechanisms haven't yet developed past anger, lashing out, and drinking yourself into a coma."
"Wait," Swift said, turning abruptly back to Annie. "Our coping mechanisms are supposed to develop past these things?"
He smiled wryly and carried on walking towards the infamous tree and Levi's cottage hidden in the woods. It wasn't long until they turned the corner and spotted the tree up ahead. At its base sat another young girl, her black hair pulled back in a gymnast ponytail, her face buried in her knees. Annie and Swift looked at each other and sped towards her.
"Lily?" Swift said, whipping off his coat and putting it over the shoulders of the girl, covering her thin jumper. "Lily Parker? I'm DI Swift and this is Annie O'Malley. Can we take you somewhere warmer?"
Lily looked up from her knees with bloodshot eyes and lips that were tinted blue. She gave a slight nod and Swift helped her up from the woodland floor. She was tall and lithe, but her tight jeans and sweater gave away the blossoming adult in her. She looked older than her friends, more worldly. Lily looked up through her eyelashes at Swift, her lips pouting slightly, as she huddled into his body, his arm around her shoulder. Annie resisted the urge to roll her eyes, trying to feel compassion for the girl who'd discovered her best friend dead. But the speed with which she'd switched from grieving friend to absolute vixen when she'd spotted Swift had been whiplash inducing. Annie watched from behind as Swift carefully walked Lily out of the woods and around the front of the school, despite the girl's height her head rested perfectly under his arm. They took the stairs to the entrance hall and around through to the common room.
As Swift sat Lily down on the squashy sofa in front of the painting of Salome and beside the fire, he looked about, searching for something he obviously couldn't find as he turned to Annie.
"Can you go get some hot drinks?" he asked, lifting a blanket from the back of the wingback and placing it over Lily's legs.
Annie said nothing in reply, sitting on the wingback opposite and folding her arms across her chest.
"I'm fine," Lily croaked, in a voice that sounded anything but.
Download


Copyright Disclaimer:
This site does not store any files on its server. We only index and link to content provided by other sites. Please contact the content providers to delete copyright contents if any and email us, we'll remove relevant links or contents immediately.