Bone Harvest by James Brogden
Author:James Brogden , Date: August 6, 2020 ,Views: 289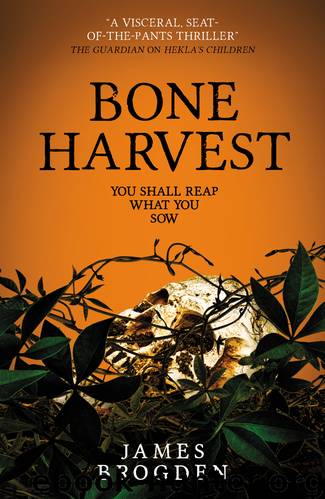 Author:James Brogden
Language: eng
Format: epub, mobi
Publisher: Titan



PART THREE
PLANT OUT SEEDLINGS
1
BOUNDARIES
'ARE YOU SURE THIS IS A SHORTCUT?' SAID KATE.
'Of course, I'm sure.' Suzie threw her rucksack over the wall.
'I don't think this is even a proper footpath.'
'Look,' said Suzie, pointing at the map. 'We just follow this fence line here. It cuts off this big triangle here and saves us a good hour. We can be at the Laughing Goose by lunchtime.'
'But what if there's a farmer?'
'Then we just claim that we're a pair of idiots who got lost because they can't read a map properly. Which in your case is true.' Suzie glanced up and down the lane to make sure that there weren't any passing cars to see them, then climbed over the wall and into the field on the other side. 'Come on, twinkle-toes!' she called.
'We are so going to get arrested,' Kate grumbled, and tossed her rucksack over the wall too.
'Hey! That nearly hit me!'
'Did it? Oh, I'm so sorry, must be because I'm an idiot.' She climbed over the wall and dropped down next to her friend.
'Cow.'
'Moo.'
They grinned at each other, re-shouldered their bags and set off along the fence that ran perpendicular to the wall, uphill and into a copse of trees.
It had been a last-minute decision to go out for a day's ramble through the fields and down to Fradley Junction, where the Trent and Mersey Canal met the Coventry Canal. Suzie had gained an unexpected day off because some workmen renovating the offices next door had sliced through a power cable and cut the electricity to the whole building, and Kate's planned trip with her on-off boyfriend Gethin had fallen through because of some football-related thing, so Kate had messaged her to say why don't we do something – thinking an epic shopping spree – and Suzie had come back out of nowhere with it's a sunny day why don't we go for a walk in the countryside and to her own enormous surprise Kate had said sure, why not? Apparently Suzie had fond memories of a childhood holiday cruising the canal and had stopped at this place called the Laughing Goose Café, which sounded fun. So Kate had gone into the loft and dragged out the dusty old rucksack that she hadn't used since failing her Bronze Duke of Edinburgh expedition at the age of fourteen, bought some sandwiches from the Co-op across the road and then it was now.
According to the map this was called Drake's Hill. There was no path following the fence and the grass was long and still wet from the rain, and pretty soon Kate's jeggings were wet to the knee. 'I'm getting soaked here,' she complained.
Suzie laughed. 'Not that I'm trying to distract you in any way, but ooh look, babby lambs!'
She pointed to the field on their left, on the other side of the fence, where sheep were grazing accompanied by the tiny white dots of very new lambs. The nearest she could see were feeding, with their heads butting their mother's underside and their tails waggling voraciously.
Download


Copyright Disclaimer:
This site does not store any files on its server. We only index and link to content provided by other sites. Please contact the content providers to delete copyright contents if any and email us, we'll remove relevant links or contents immediately.