Airship Nine by Thomas Block
Author:Thomas Block , Date: January 20, 2023 ,Views: 126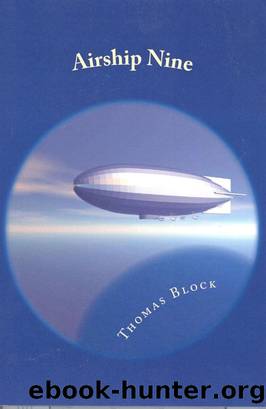 Author:Thomas Block
Language: eng
Format: epub
Tags: airship nuclear war antarctic soviet south pole world war iii nuclear winter russian aviation airline blimp ship
Publisher: Thomas Block



CHAPTER NINE
With the exception of Steve Galloway, who remained in the cockpit, everyone aboard Airship Nine moved down the staircase to the lower deck when Captain Whitaker gave the signal. As they assembled, one by one, on both sides of the opened hatchway door they all stood quietly and waited, each of them hardly looking at any of the others. The hatchway had been opened long enough for the cold mid-morning Antarctic air to chase away the effects of the heating system. Yet the nine men and women gathered inside the lower deck cargo area remained relatively comfortable because there was hardly any wild blowing through the opened hatch.
Captain Lou Whitaker was the last to come down the staircase. As he entered, all eyes turned toward him. Whitaker avoided looking back at any of them and, instead, glanced out the opened hatchway to the sea below. Several small and widely separated icebergs floated on the choppy blue water, their presence trivial and insignificant on such a vast and expansive sea. The airship had turned during the night as the shifting breeze had moved northeast, and that had caused the opened hatchway to now face away from the range of mountains and frozen coastline that they flew parallel to and toward the open ocean. "I guess everyone's here," Whitaker announced to no one in particular. No one in the group answered.
Whitaker cleared his throat as he looked around. Frank Corbi stood at the far left corner, his video camera held as inconspicuously as possible at his side, the battery pack slung over his shoulder. Whitaker nodded toward Corbi, then addressed the group. "I expect that none of you has any objections to Mr. Corbi using his video tape machine," Whitaker began, in a voice that left little doubt that he wasn't actually asking any of them for permission. After Corbi had brought the subject up a short time before, Whitaker had briefly thought it over and decided that recording what was happening to them wouldn't do any harm.
"Wait a minute."
"Yes, Mr. Sinclair?" Whitaker's heart sank even lower than it had been — other than his copilot Ray Madigan, young Andrew Sinclair was the last person in their group that he wanted to deal with at the moment.
"Filming a funeral doesn't seem appropriate to me," Sinclair announced. This time, he didn't step forward as he normally did whenever he made a calculated statement against whomever represented the designated authority — that was the way they had taught him to do it at Yale — but instead he continued to stand next to his wife, as if he intended to use her as a shield. Sinclair ignored the angry stares he was getting from Kathleen, since he could deal with her later. As far as that blonde bitch Julie was concerned — she was also staring at him from across the room, with less than a sympathetic expression — Sinclair intended to ignore her completely. After spending four years at Yale he was damned if he was going to talk to a grown woman who counted penguins for a living.
Download


Copyright Disclaimer:
This site does not store any files on its server. We only index and link to content provided by other sites. Please contact the content providers to delete copyright contents if any and email us, we'll remove relevant links or contents immediately.