After the Rain (Brides of Weatherton, Book 1) by Leah Atwood
Author:Leah Atwood [Atwood, Leah] , Date: January 14, 2021 ,Views: 17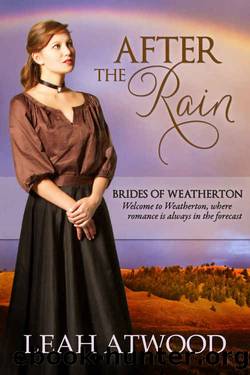 Author:Leah Atwood [Atwood, Leah]
Language: eng
Format: epub
Publisher: Falling Leaf Press
Published: 2014-08-25T04:00:00+00:00



Chapter Six
Something was amiss. She could have been imagining it, but Lettie was almost certain that multiple stares had been cast her way. And the way Rand continually grinned—it wasn't natural. A smile hadn't left his face since they'd arrived in town.
There was also a marked lack of women out and about the town. Considering what a pleasant day it was, she'd expected to see more of the female population today. She was a bit disappointed because she'd hoped to see a few of the ladies she'd met at church.
Something odd was definitely occurring.
They came to the Foster's home, a two-story, gray clapboard house with a narrow porch, just wide enough for a person to relax in a chair. Rand knocked on the door and Lettie thought his cheeks would explode if he smiled any broader. He did have a nice smile, she noted.
Myrtle promptly answered the door and greeted them fondly, drawing her into a large hug. "I'm so happy you could stop by today."
"Me too," Lettie told her sincerely, returning the embrace.
She was glad this small town didn't maintain the social norm of making women remain out of the public's eyes during pregnancy. Myrtle assured her that no one here, save some of the elderly intent on maintaining tradition, would think less of her for appearing publicly. Thank goodness, because she would have wanted to break that etiquette, but not at the risk of creating a scandal.
"Come in, come in," Myrtle said with an exultant glee.
The warmth of Rand's hand on her back seeped through her dress. He ushered her into the house until they were standing in the foyer and then he took a step back.
"Follow me." Myrtle abruptly turned and walked toward the parlor.
Lettie glanced back at Rand, who gave her an encouraging nod to follow. If she hadn't been sure before, now she definitely was.
Walking briskly, she caught up with Myrtle. Pausing two feet from the doorway, Myrtle turned to her. "Go on ahead of me and get comfortable. I forgot something in the kitchen."
Not thinking anything about her statement, Lettie walked into the parlor, her mouth dropping when she saw all the people in the room.
"Surprise," they shouted.
Well now, that explained the oddities which had been occurring. Seven ladies she'd met, or at least had seen, at church were in the room. The parlor had been rearranged to accommodate two small round tables, plus a rectangular table which was set up with platters of food and a bowl of punch.
Myrtle came up behind her and spoke softly, for only her ears to hear. "I hope you don't mind that we didn't wait until after the baby's arrival, but I thought a tea to celebrate the baby would be a nice way for you to make friends with the ladies."
"I'm so touched." She blinked, trying to eliminate those pesky tears that wouldn't stay away.
Rand tapped her on the shoulder; she hadn't realized he'd followed. "I'll be back in two hours. Enjoy yourself."
Raising an eyebrow, her lips turned up in a smile.
Download


Copyright Disclaimer:
This site does not store any files on its server. We only index and link to content provided by other sites. Please contact the content providers to delete copyright contents if any and email us, we'll remove relevant links or contents immediately.